Book Review: Learn to Have Fun with Your Senses: The Sensory Avoider's Survival Guide
< Back to Previous Page
Book Review: Learn to Have Fun with Your Senses: The Sensory Avoider's Survival Guide
By:
John Taylor, PhD
; Illustrations by:
Lynda Farrington Wilson
Reviewed By:
Susan N. Schriber Orloff, OTR/L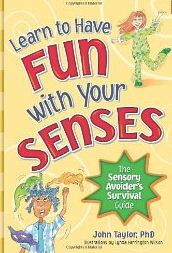 This is a wonderful book for children with sensory avoiding issues. Not only is this book applicable to children, it is also helpful for parents and practitioners working with children who struggle with sensory processing disorder.
The book simplifies sensory problems in a way that gives children a way to understand what is happening in their brains and bodies.
Most children are unaware that their brain is not processing senses the way it needs to, but instead just feel different. This book provides a simplified explanation children can understand and helps them realize there are many people who feel the way they do.
Taylor covers touch, movement, hearing, vision, and tastes/smells. He provides the child with checklists of things that the child may or may not be "bothered by." This enables the child to take ownership of their problem and partake in discussions with parents and therapists that they probably would not have understood before.
Not only are there ways to identify a problem, but this book also describes fun activities to "train your brain" to prevent the child from overreacting to certain sensations.
In addition to activities, tips are provided for eating the right foods, getting good sleep, and taking care of your body. For all of these topics the terminology is explained in ways a child can easily relate.
At the end of the book, Taylor provides a special note to occupational therapists and teachers to explain how this book can be used as a tool. Additional resources pertaining to sensory processing is also listed.
This Month's Featured Book Reviewer:
Children's Special Services, LLC
Special Thanks to Susan Schriber Orloff for reviewing this book for PediaStaff.
Susan N. Schriber Orloff, OTR/L, is the author of Learning Re-enabled, a guide for parents, teachers and therapists. The National Education Association, and the International Learning Disabilities Association endorse the book. She is the Director of the Modified Developmental Preschool in Dunwoody, GA. Susan writes "Ask the Therapist," a column in Exceptional Parent magazine, and is CEO and is the executive director of Children's Special Services, LLC, an occupational therapy service for children with developmental and learning delays in Atlanta, GA.
She can be reached on the Web at
http://www.childrens-services.com
.
Please support our contributing authors and visit Children's Special Services, LLC on the web at:
http://www.childrens-services.com
. She can also be reached by email at:
[email protected]
.
Tags: Book Sensory Processing Disorder Tip or Resources of Week Newsletter 6 May 2011