Guest Blog: It's in the Clouds—Therapy Ideas - featured September 19, 2011
< Back to Previous Page
Guest Blog: It's in the Clouds—Therapy Ideas
By:
Deb Tomarakos, SLP-CCC
Reprinted with the express permission of the author as it originally appeared on her blog
Speech Gadget
, July 11, 2011
Wow, I can't believe how long it has been since I have posted. Many of you know, that I sold my house and have been looking for new digs. Add to that the fact that summer is upon us, and my "tech" time has been limited.
Today, I want to take a moment and talk about clouds. I don't mean the tech clouds that involve storage. I mean the actual lay on your back and look up at the sky clouds. During these lazy days of summer, I have been spending time outside with my kids, looking at clouds. That always makes me think of one of my favorite children's books….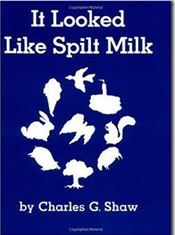 It Looked Like Spilt Milk by Charles G. Shaw. This book has a repetitive story line, and very simple graphics. As an adult, it will make you recall summer days laying in the grass looking up at the clouds in the sky. The story presents various white shapes with repetitive descriptions (It looked like an ice cream cone, but it wasn't an ice cream cone). The book ends with the following description, "It looked like spilt milk, but it wasn't spilt milk…it was just a cloud in the sky."
This book is a great way to link literacy to an everyday activity. It is amazing the things children will see in the clouds when they use their imagination. You can challenge the kids to "spy" things in the clouds. You can enhance vocabulary skills while looking for creatures, every day items, even people's faces in the clouds. You can create an indoor extension activity by creating clouds of your own. Clouds are so simple to make and such fun. Take some white paper, draw a cloud shape, cut it out and glue on some cotton balls. Simple, easy and fun. To make it interesting and more similar to the theme of the book, you can draw your clouds to look like shapes. Maybe you want a dino cloud in your sky, or perhaps a cloud shaped like a tree or a hamburger. The possibilities are endless. You can also use white paint on blue construction paper to make lovely cloud shapes.
Another fun way to continue the cloud theme is to search Google Images for amazing cloud photographs and then discuss what shapes you see in the photos of the clouds. (As always, be careful when searching Google Images if you have children at the computer screen. Be sure to set your SafeSearch setting to strict.)
The theme can be extended further by teaching children about different types of clouds and how they are formed. Weather Wiz Kids.com has a nice page that presents information all about clouds.
If you have access to You Tube, you can fly through the clouds.
DLTK's Crafts for Kids
also has instructions for this
cute cloud wind sock
.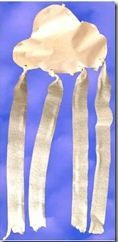 Do you have any other cloud books, crafts or activities you enjoy? If so, we would love to hear from you.
I hope you are enjoying your lazy days of summer and hope you will take a moment to look up at the clouds. You never know what you might see.
That's all from me for today. Until next time…
Featured Guest Blogger:
Deb Tomarakos, SLP-CCC
Deb Tomarakos is an ASHA certified and licensed speech-language pathologist. She has been practicing in the field of pediatrics for over 15 years. Her work experience has included both the public schools and out patient pediatrics. Her strongest areas of interests include Childhood Apraxia of Speech, early reading skills, and using technology to increase children's speech/language skills.
Please support our contributing authors and visit
SpeechGadget.com
Tags: Article Language Literacy Newsletter 23 September 2011