Why PediaStaff?
We specialize in pediatric therapy and special education staffing. PediaStaff is a national leader in the contracting and direct-hire of pediatric SLPs, OTs, and PTs. No other placement firm specializes in all aspects of pediatric therapy recruitment for all settings and terms. A search of our database returns hundreds of active pediatric therapy openings and thousands of pediatric therapists registered with PediaStaff. Therapist applicants are attracted to PediaStaff because they know we offer the most variety, quality of opportunity, and choice in the industry. Our unique position as pediatric staffing specialists means that candidates know we are going to go out of our way to find the best school and pediatric positions available. If an applicant wants to work with kids, then PediaStaff is the obvious choice.
We are Specialists
in Pediatric Therapy Staffing
We are Pediatric Specialists with a Stellar Reputation and Brand Name Recognition.
PediaStaff is recognized as a national leader in the contract and direct hire of pediatric SLPs, OTs, and PTs. In fact, no other placement firm specializes in all aspects of pediatric therapy recruitment for all settings and terms.
A search of our database returns hundreds of active pediatric therapy openings, and thousands of pediatric therapists registered with PediaStaff.
Therapist applicants are attracted to PediaStaff because they know we offer the most variety, quality of opportunity and choice in the industry bar none.
Our unique position as pediatric staffing specialists means that candidates know that we are going to go out of our way to find all the best school and pediatric positions available – in every setting – not just the ones all the other agencies have. If an applicant wants to work with kids, then PediaStaff is the obvious choice.
We Listen
Our specialized therapy staffing consultants will spend time with you to develop a full job description that we will use both on our website and on the phone with our therapist applicants. It's the details that will make the difference and enable us to effectively recruit for your position.
Our applicant prequalification process is two-fold. The candidate is first qualified by our candidate development staff and then is interviewed a second time by the staffing consultant before we present the candidate to you.
Our conversations with applicants go beyond the "when and where" and asks "why" – before we present a candidate to you.
Each of our staffing consultants is territory based and has worked hard to learn all aspects of the areas where they work – from drive times to state licensure requirements. This helps ensure that all the details are covered before you take your valuable time to interview the candidate.
We Support Our Contractors
PediaStaff offers our contractors a highly competitive benefits package, which includes:
Travel assistance
Licensure
Professional dues
Malpractice insurance
Optional summer pay
Continuing education
National medical, dental, vision, and life insurance

 

401K
PTO
Our clinical coordinators are experienced therapists, and are a valuable resource for our contract therapists – 24 hours a day, 7 days a week.
When you hire a therapist from PediaStaff you know your contractor will be treated as a professional – giving you the peace of mind you need.
Flexible Pediatric Therapy
Staffing Solutions
PediaStaff offers flexible recruitment solutions including both contract and direct hire staffing services.
If you are looking to bring on one of our applicants as a W-2 employee, then we recommend the direct-hire services we offer in all settings, including school-based therapy.
PediaStaff is one of the few agencies that will convert a contract therapist into a direct employee when both the client company and therapist are interested in a long-term relationship. If your needs are short term, our contract options range from 13-week assignments to a full year at a time and beyond. We also offer a temp to direct option to enable you to "try before you buy."Our contractors receive excellent benefits through our back-office provider and clinical support through our in-house clinical support team.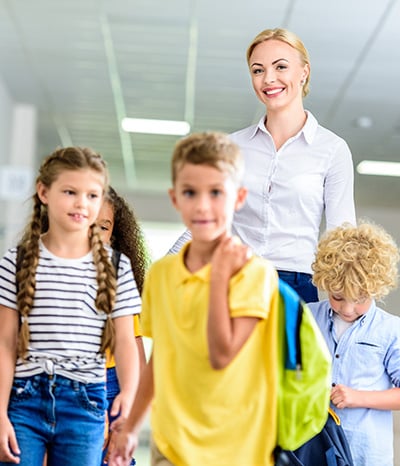 Career Resources
Today's job seeker spends a lot of time online, and PediaStaff works constantly to ensure that our online presence is second-to-none. To encourage traffic from therapists, our new website offers great content on therapy and career resources.
Our weekly/monthly newsletters and daily blog keep the PediaStaff name fresh in the minds of therapists. Also, we are active on social networking sites like Facebook, Twitter, and LinkedIn that reach newer and younger therapists.
A recent Google search found over 300,000 pages referring to PediaStaff and its job postings
Our weekly and monthly newsletters and daily blog keep the PediaStaff name fresh in their minds. In addition we are active on social networking sites like Facebook, Twitter, LinkedIn that the new generation of therapists frequent.
PediaStaff also has a university outreach program that helps introduce our company to upcoming graduates and alumni, and we participate in several major trade shows per year. All of this combines for a well-rounded marketing plan that attracts candidates to our company to learn about YOUR job opportunities!
Legal and Tax Protection
Let PediaStaff eliminate risks and offer peace of mind for your business.
The contract therapists we supply are fully screened, and covered by liability insurance, malpractice, and workers compensation through our back-office provider to protect your company.
Contractors through PediaStaff are W-2 employees of our back-office provider, so employee taxes are covered. The IRS has become increasingly aggressive regarding employees being misclassified as independent contractors on 1099's.
Testimonials
I can't shower PediaStaff with enough praise. I have had 2 placements through them and both have been awesome experiences. With PediaStaff, it's about relationships and people. I can't recommend PediaStaff enough. They are a true blessing.
Sabra T. -COTA
FAQs
What kind of placement and staffing does PediaStaff do and what settings do you place in?
We outrival our competition in the placement and staffing of pediatric and education-based occupations, like speech-language pathologists (speech therapists), physical therapists, and school psychologists.
Our clients are school districts, general hospitals, children's hospitals, early intervention providers, and pediatric outpatient and rehab facilities. Our clients hire travelers, contract therapists, and direct-hire employees from us. Sometimes our candidates start as contractors and then convert to direct.
Our hospital system serves all age groups in our marketplace -- both adults and children. If your company really does specialize in pediatrics, why should we call on PediaStaff for all our therapy needs?
Because of our reputation in the industry, we attract the finest and most desirable talent available. The applicants we screen have varied interests and employment experiences. Many are looking to be introduced to the most comprehensive employers in an area, not just one offering a specific position, setting, or age group. Our candidates are interested in professional development and exploration.
What's the difference between a "direct-hire" and a "contract?"
A direct-hire placement (AKA permanent placement) occurs when a candidate is hired by your organization to be your employee on your payroll. PediaStaff receives a fee for its services but is no longer involved after the candidate starts work. A contract placement occurs when a PediaStaff therapist works for your company for a limited timeframe, like a school year, for example. Therapists become W-2 employees of PediaStaff's back-office company and receive benefits, vacation time, insurance, continuing education, etc. Your organization is billed an hourly rate based on a weekly timesheet that you approve.
What is a "traveler," and how does a traveler differ from a "contractor?"
A "contractor" is generally a candidate who lives local to the client and is compensated hourly through a staffing agency.
A "traveler," like a contractor, is also paid hourly by an agency. Travelers qualify for additional compensation– usually a tax-free per diem to pay for the expenses associated with living out of town while maintaining a residence back home.
Our ability to attract a traveler to your job may help us fill a position you are having a difficult time filling locally.
How much does it cost to work with PediaStaff?
There are a variety of factors that affect the fees associated with our services, including a candidate's experience, skills (bilingual, etc.), employment level (Full-time, Part-time, or PRN), whether the candidate is an assistant or a fully licensed therapist, and whether the organization is for-profit or not. With contract placements, our fee is built into our all-inclusive bill rate. Our staffing specialists are authorized to work with you to determine the fee schedule or bill rate that will work best in your situation!
After I talk to PediaStaff about our opening, am I under any obligation to hire from you?
No. Feel free to continue independent advertising and interviewing. If it looks like you are close to hiring from another source, we just ask that you let us know.
I might consider either direct-hire or a contractor depending on the candidate. Can we look for both types of candidates?
Yes– we recommend it! Your flexibility to consider either type of candidate will increase your chances that PediaStaff can fill your position.
What information should I be prepared to share with PediaStaff so you can get started on my opening(s)?
A complete job description is vital. Our representatives will need information about your organization, the salary or bill rate offered, therapy caseload, case population, service model (i.e. pullout vs. inclusion, or individual vs. group) details about the specific school/facility the therapist will be assigned to, the size of your therapy department, and company benefits. We also need to know if you are willing to offer relocation assistance, or help with interview costs for out-of-town candidates. If there are any special certificates or licenses required, PediaStaff must know how the therapist can get those and how long it will take.
If your position is a contract assignment, we will need to know the contract duration and schedule (including unpaid time off for school breaks), whether you have other contractors, and how those contractors fit into your department as a whole.
What is the process to begin working with PediaStaff?
For contract: Our recruiters will work with you to determine an appropriate bill rate. If required by your administration, we send out a preliminary contract for your review. We work on filling your position once we have a detailed job description.
For direct-hire: Our recruiters will send you a fee agreement with terms appropriate for your position. Once we receive a signed copy back in our office, we begin your search in earnest.
What kind of effort will PediaStaff put into filling my position?
Our staffing consultants are well-versed in the market conditions in their territories and will give their honest projection as to whether we can likely fill your opening and how long it might take. Factors such as job duties, salary, and caseload expectations, combined with geographic markets and patient populations greatly affect the outcome of the search. Our consultants are excellent at suggesting modifications to increase our chances of finding a great candidate for you. Bottom line, we believe in open communication between us and the client.
Does PediaStaff verify licensure and conduct background checks?
In the case of a contract placement, our administrative service provider does verify licensure and conduct complete background checks including FBI fingerprinting. Your organization is responsible for background checks and licensure verification for any PediaStaff candidate you hire as a direct employee.
Who pays for liability insurance, malpractice insurance, and workers comp?
Contract/Temporary therapists working for PediaStaff are fully insured by PediaStaff's administrative back-office. We require our therapists to carry their malpractice insurance as well. Any therapists provided by PediaStaff, but hired directly by your organization, need to be carried on your insurance policies.
I was thinking about bringing a therapist onto my team on a "1099" basis. Won't that save me a lot of money and hassle?
The risk of doing this vastly outweighs the possible benefits. If the IRS determines that an independent contractor (IC) is an employee, they can enforce substantial penalties. Only your accountant or attorney can help you determine whether your organization is eligible to hire therapists as independent contractors. Using a contracting company like PediaStaff eliminates all of this risk and can give you the peace of mind you need.
If I decide to go the contractor route, what is included in the bill rate that I pay PediaStaff for contract therapists?
The bill rate charged by PediaStaff is all-inclusive and bundles the therapist's hourly salary, all the costs of running the contract for PediaStaff (the contractor's benefits, the costs of clinical support, insurance, etc.), and our fee for managing the contract. The only variable is if you require a therapist to use their vehicle during the workday. In that case, you'll be billed for the IRS-approved rate, and we will reimburse the therapist.
PediaStaff will work with you to keep bill rates reasonable. Any fluctuation of our rate may affect
the hourly rate we can offer a therapist.
Can I extend the contract of one of your therapists?
Of course. If both you and our contractor desire an extension just let us know! We'll provide you with new addendum to your existing contract with revised dates of service. Contact your staffing agent to learn more.
I know of a therapist that I would like to bring on as a contractor but am not permitted to employ contractors directly. Can I employ them through PediaStaff?
Yes. We offer an "Employer of Record" service if you have the candidate in mind already. Talk to your staffing consultant for more details on this option.
Do PediaStaff contractors receive benefits?
Yes. We offer contractors a highly competitive benefits package, which includes travel assistance, licensure, professional dues, malpractice insurance reimbursement, and continuing education. We utilize a back-office that serves as the employer for the duration of the contract assignment and offers national medical, dental, vision and life insurance, a 401K program, and optional summer pay. Paychecks are weekly and direct deposits are offered. See your PediaStaff recruiter for a detailed benefits sheet.
Do you provide housing for the therapists you place?
We pay eligible employees an hour per diem system rather than providing actual housing. This means employees will receive an hourly portion of their pay tax-free, which is to be used for housing. We believe this is a superior system, as you can choose how much to spend and where to live, rather than having us decide.
Does PediaStaff provide supervision for assistants and Clinical Fellows?
Although PediaStaff provides outstanding, 24/7 clinical support for our contract therapists, we believe that our client school districts and clinics must take an active role with assistants and new graduates. Local supervision by a direct employee provides consistency to the training of junior therapy professionals, and creates a true partnership that will ensure the success of our contract therapist in their new position. We can provide Clinical Fellowship supervision.