Facebook Says It Will Take Down Posts Linking Vaccines To Autism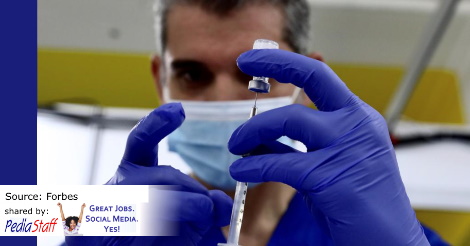 [Source: Forbes]
Facebook said Monday it will remove all posts, not just ads, that claim that vaccines cause autism, the social media company's most aggressive step yet to combat antivaxxer claims.
Facebook said it made the decision to crack down on antivaxxer content after consulting with the World Health Organization, and it will last "for the duration of the Covid public health emergency."
The social network also announced Monday it will take down posts asserting Covid-19 is man-made, that "vaccines are not effective at preventing the disease they are meant to protect against" as well as posts that say it's safer to get the disease than get a vaccine.
Do you love working with children ages birth to five? We are seeking an Autism Evaluator to work with Birth-5 year-olds in their natural environments near Salem, Oregon area for the upcoming 2020/21 SY.    *.Full-Time SLP Birth-5 program experience with Autism evaluation…...
LEARN MORE
Are you a new grad Occupational Therapist seeking a pediatric outpatient facility or a seasoned professional ready to enhance your skill set? Are you interested in living and working in an up and coming bedroom community of Houston, Texas? We are working…...
LEARN MORE
We are seeking multiple LBS1 Special Education teachers to work in a Therapeutic Day School!  If you are a licensed LBS1 Special Education teacher looking for a full-time job for the remainder of this school year, look no further and apply today!…...
LEARN MORE