Training Teachers for Deaf Children Gets a Robotic Helping Hand
[Source:  Science Daily.com]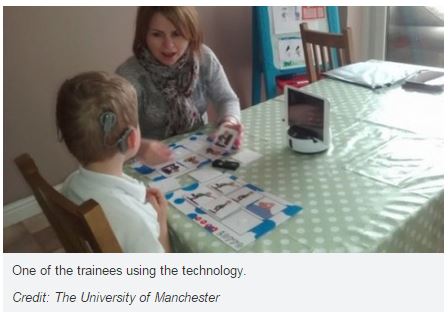 Deaf education lecturers at The University of Manchester are using the Swivl robot in school classrooms in a UK first for teacher training.
Swivl is a robotic turntable onto which is placed an iPad or other tablet. It is positioned in the classroom and turns to follow people talking. It then uploads video to a secure cloud for streaming or later viewing.
The University of Manchester team has been using Swivl to help assess classroom placement training for students on its deaf education course. This programme requires the trainees to be assessed in the classroom, but the wide geographical spread of students on placement, led the team to consider whether technology could help ensure high quality supervision irrespective of a student's location.
Professor Wendy McCracken is the only professor of the education of the deaf in the UK and leads the course. She said: "There is a chronic shortage of teachers qualified to teach deaf children, but our teaching requires students to be monitored while giving classes on
Read the Rest of this Article on Science Daily