30-Minute Naps May Boost Infants' Learning and Memory
[Source Medical News Today]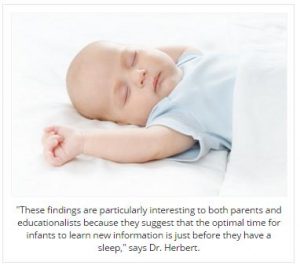 It seems like young infants spend most of the day sleeping, and according to the National Sleep Foundation, they do. On average, infants aged 3-11 months have around one to four naps a day, each lasting 30 minutes to 2 hours. Now, a new study finds these daytime naps may be key to a child's development, helping them remember newly learned skills and behavior.
"These findings are particularly interesting to both parents and educationalists because they suggest that the optimal time for infants to learn new information is just before they have a sleep," says Dr. Herbert.
The researchers, including Dr. Jane Herbert of the University of Sheffield in the UK and investigators from Ruhr University Bochum in Germany, publish their findings in the Proceedings of the National Academy of Sciences.