Activity of the Week: Visual Perceptual Printables for Thanksgiving – Freebie!
[Source:  Your Therapy Source]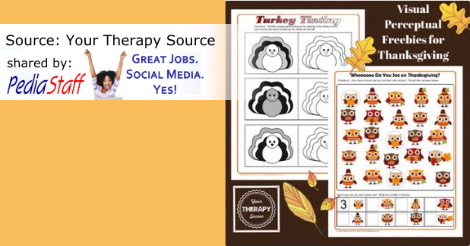 This freebie challenges visual perceptual skills with a Thanksgiving theme. Practice visual motor, visual discrimination, visual spatial, visual closure and overall visual perceptual skills with these printables.  Print off multiple copies for your students and your activities are ready to go for fine motor centers in the classroom, visual motor skill practice, special education classrooms, early finishers and/or handwriting warm ups.
Download this Terrific Freebie from Your Therapy Source