OT Corner: Adapting Off-the-Shelf Games and Toys for Therapy – Fall
[Source: The Playful Otter OTR]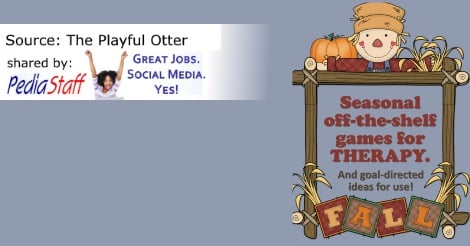 I look forward to the changing seasons and the holidays as they roll around each year so that I can pull out some of my special favorites. Kids love them, and it adds festive fun to the therapy sessions. Here are a few of my fall favorites. Click on the game name to go to my post about that game, including ways to use in therapy. Happy fall!
Go Nuts! – Squirrels and acorns, a game made for fall. A quick playing dice game.
LEGO Thanksgiving Turkey – LEGO puts out limited edition sets for different seasons and holidays. They go fast.
A Charlie Brown Thanksgiving app – Another charming Charlie Brown android app from Loud Crow. Based on the TV special, Charlie Brown and Snoopy whip up a last minute meal of jelly beans, popcorn, and toast. See how his guests react. Lots of chances to interact with the app.