Autism Acceptance Month: Teaching Neuroinclusion to Your Children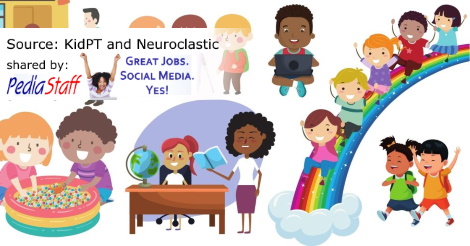 [Sources:  KidPT and Neuroclastic]
This month is Autism Acceptance Month (formerly known as Autism Awareness Month). The purpose of the month, which was originally geared toward raising awareness and sharing resources to raise awareness for the Autism Community, is now aimed at both raising awareness and fostering a culture of acceptance. What does this mean exactly? The name change to Autism Acceptance Month urges for a change in how the community at large embraces individuals with Autism as well as their families. A large source of stress for individuals with Autism and their families is a lack of community support, this includes difficulty finding support within the education system, providing accessible housing, providing affordable healthcare, and helpful, comprehensive long term services. 
That said, we wanted to highlight one resource we found that was designed to help individuals within the community and to help educate the community as a whole.
Great Elementary School seeking multiple LBS1 Full-Time Special Education Teachers near Martinton, IL for the remainder of this year and the SY2021-22! Two LBS1 -Special Education Teachers needed to work full-time hours: *  Grade level - mostly primary (Elementary age) *  Pull…...
LEARN MORE