Language Activity of the Week: Long & Short Vowel Sorting with Snakes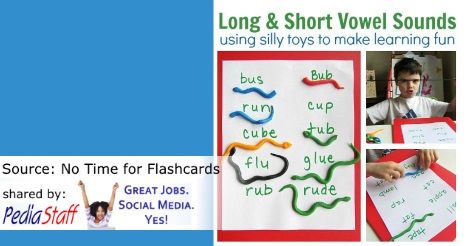 [Source:  No Time for Flash Cards]
Getting kids to learn after school can be hard. Bribery, delayed rewards even punishment seems futile because we want them to WANT to learn. Making it a game or using some novel tools for learning are my son's favorite ways to learn after school.  These little slimy snakes are favorites around here . I find them all over the playroom so I decided to use them for a quick lesson in long and short vowel sounds. Learning to distinguish these sounds is an important skill for reading and spelling.  Have fun with learning after school activities and remember that these aren't in place of homework they are in addition to. Use them as you see fit . My kindergartner usually does 2-3 a week and they are all pretty quick lasting between 5-15 minutes.
Read More About this Activity on No Time For Flashcards
School Based Job Opportunity available for School Year 2021-22 for a Speech-Language Pathologist! * Located in the beautiful Palmer/Wasilla area about 40 miles outside of Anchorage, AK * Full time for the school year beginning early August 2021 and ending late May…...
LEARN MORE
Do you love working with children 3-5-year-olds? We are seeking a Speech-language pathologist to work with 3-5-year-olds in their natural environments in Salem, Oregon area for the upcoming 2021 -22 SY.    * Full-Time Speech-language pathologist 3-5-year-olds program * SLP assignment is August 27,…...
LEARN MORE
  Are you looking to live and work near the gorgeous water in Washington State? We have a fantastic Speech-Language Pathologist job opportunity for the 2021-2022 school year in Silverdale, WA, on the Kitsap Peninsula. You will be working in the Kitsap Peninsula…...
LEARN MORE