The Amazing Adaptability of Brain's Vision Center
[Source:  Science Daily]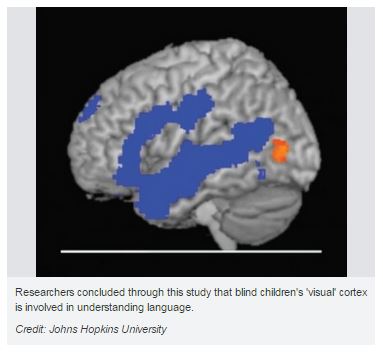 By early childhood, the sight regions of a blind person's brain respond to sound, especially spoken language, a Johns Hopkins University neuroscientist has found.
The results, published this week in
The Journal of Neuroscience
, suggest that a young, developing brain has a striking capacity for functional adaptation.
"The traditional view is that cortical function is rigidly constrained by evolution. We found in childhood, the human cortex is remarkably flexible," said Johns Hopkins cognitive neuroscientist Marina Bedny, who conducted the research while at Massachusetts Institute of Technology. "And experience has a much bigger role in shaping the brain than we thought."
Bedny, an assistant professor in the Department of Psychological and Brain Sciences, studied 19 blind and 40 sighted children, ages 4 to 17, along with Massachusetts Institute of Technology cognitive scientists Hilary Richardson and Rebecca Saxe. All but one of the blind children were blind since birth.
Read the Rest of This Article on Science Daily