Book Review! I Can Say NO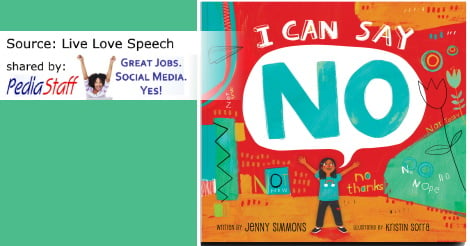 [Source: Live Love Speech]
I am super excited to share this newly released book by Jenny Simmons called I Can Say No. This book navigates through various scenarios while teaching kids the power of using the word "NO."
As simple as the word is, saying "no" can be a tricky concept for kids to understand & learn how to use it appropriately. This book really teaches kids how to use their voice & stand up for themselves as well as others.
This book shows realistic situations/scenarios that kids may encounter on a daily basis making it very relatable & powerful!
Read More Including a List of Speech and Language Goals That You Can Target
Do you qualify as a speech-language pathologist supervisor? We are seeking a 2020-2021 school-based Speech-Language Pathologist to supervise an SLPA 2-3 days per week In the East Bay near Concord. The city itself is located on the northwest corner of Santa Clara…...
LEARN MORE