Cancer Drugs May Hold Key to Treating Down Syndrome and Other Brain Disorders
[Source: Science Daily]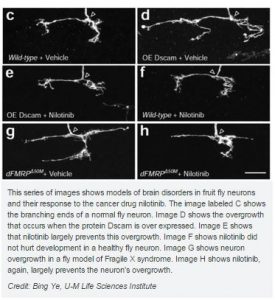 A class of FDA-approved cancer drugs may be able to prevent problems with brain cell development associated with disorders including Down syndrome and Fragile X syndrome, researchers at the University of Michigan Life Sciences Institute have found.
The researchers' proof-of-concept study using fruit fly models of brain dysfunction was published today in the journal
eLife
. They show that giving the leukemia drugs nilotinib or bafetinib to fly larvae with the equivalent of Fragile X prevented the wild overgrowth of neuron endings associated with the disorder. Meanwhile, the drugs — both tyrosine-kinase inhibitors — did not adversely affect the development or neuronal growth in healthy flies.
Read More on Science Daily