Make it at Home Earth Day Moss Ball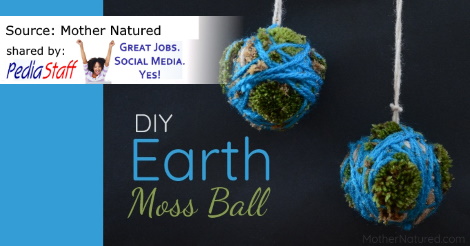 [Source:  Mother Natured]
It would be pretty obvious to most that I think Earth Day should be celebrated every day; and we do. Our family regularly connect, craft and play in nature. This Earth Moss Ball is more obvious as an Earth Day craft because, well, it looks like the Earth!
We did have fun making these together. I have three of them now, all hanging from the kids windows in their room and they just love to give it a spray with water every day. The kids love reminding me that they are the clouds and they're making it rain. So cute!
Children may need some help with this craft but they'll love getting their hands wet and dirty. The sphagnum moss is so much fun to play with.