School Nurses' Corner: May 12th is National School Nurses Day!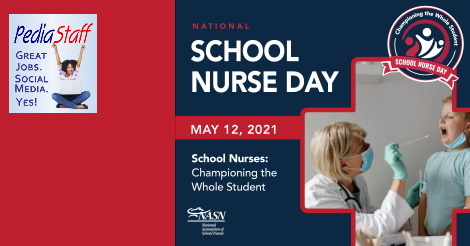 Editor's Note:  PediaStaff  would like to stop and recognize all the School Nurses working tirelessly across America.   School Nurses, check out this page on NASN that has ideas on how to celebrate YOUR day in school.   For everyone else, please enjoy this post from the National Association of School Nurses which will describe the "every day" contributions of the School Nurse.
[Source:  NASN, written by Nina Fekaris]
It is an incredible honor to recognize the contributions to student health and learning that school nurses make every day! Students across the country are able to fully access their education because of the interventions and actions performed by school nurses every day. This year we celebrate National School Nurse Day on May 12,2021 Here are some of our "every day" contributions:
School nurses advocate for students' health and safety at district and state policy levels. These policies include: safe medication storage and administration, evidence-based 'too-sick-for-school' guidelines, high nutritional standards for school meals, appropriate physical education and recess times, involvement in school attendance teams, and promotion of trauma informed care supporting students with mental health concerns.
Read this Article and Find Resources on NASN