OT Corner: The Role of Parents in Occupational Therapy Intervention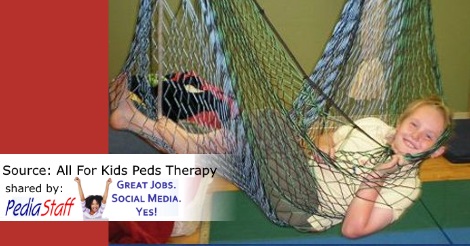 Image Credit:  All For Kids, Pediatric Therapy
Krystal Vermeire, OTR/L
Occupational therapy has been around for nearly a century.  The profession has grown into a diverse field that continues to be ever shifting in its definition and scope of practice.  When working with children who have compromised development, occupational therapists need to consider who the client truly is.  For intensions of third party payer sources, the child is going to be the logical answer.  However, is it really possible to treat the child effectively without also addressing their environment and caregiver support?  I would argue not.
To elicit positive and lasting changes in a child's developmental trajectory, I would argue that you must not only treat the child directly, but you must also work with the parent or caregiver to change the interaction patterns and set up the environment in the most optimal way.  In my occupational therapy specific training, there was very little mention of how to actually work with a child to change their developmental path.  The focus of training was on learning the disorders that are known to affect children, and the typical deficits for each disorder.  As I moved into the realm of treatment, I quickly began to learn what worked and what didn't.  From the beginning of my career, I have sought training in interdisciplinary methods, such as the DIR®/Floortime™ Model that was developed by Stanley Greenspan and Serena Weider.   Such training has allowed me to appreciate the diversity of the children and families that we work with on a day-to-day basis.
Under the DIR®/Floortime™ Model, the relationship between the child and their parents is considered of vital importance.  Children are part of a family unit.  Parents and caregivers are the ones that spend the most time with their child.  Professionals are armed with the knowledge base to guide parental interactions and direct parents to effectively manage their child's development.  The goal of therapy should not solely be to progress the child's development through continued direct therapy.  A main focus also needs to be on the progression of the child's development through educating and training the parents.  Pay sources often will not reimburse for sole parent education and training, yet this could be the most effective way to manage a child's challenges.  By providing effective parent education, access to intervention services may be lessened and cost to pay sources would ultimately be decreased.
By engaging parents in the process of intervention, they will become empowered to be the central organizer in their child's "complex and grossly uneven maze of assessments and services" (Shahmoon-Shanok, R., 2000). The parents play a role in sculpting their child's growing brain (Siegel & Hartzell, 2003).  The care provided by the adults in a child's life work to fuel the developmental fire of mental tools that are essential for survival.  Parents that are effective managers of their child's challenges are going to be more invested in the process of intervention and navigate their way through the complex system of intervention.  It should be the role of a therapist to move beyond direct therapeutic intervention and also work with parents to form a collaborative partnership with the child's best interests in mind.  When parents take on an active role in their child's intervention process the child will be receiving the best care possible because the parents and the interventionists will be working as a collaborative team.
Parents naturally interact with their children through the course of their day.  Each interaction is an opportunity for building the layers of their unique relationship.  This relationship is the guiding force that moves the child forward when nothing else will.  It is the strength of this relationship that helps a parent get through the trying times and helps the child find security when they are feeling vulnerable.  This relationship can help move the child through challenges that the child may not be able to get through alone.  By utilizing this parent-child relationship, therapists might be surprised by the results of their interventions.
In 2006, Pilkington wrote an article in OT Practice that discussed getting back to basics by providing early intervention services in the natural environments.  Natural environments include the home, as well as the community.  Early intervention programs will best serve the needs of the child and their family if conducted in the environments that are familiar and readily accessible to the child.  When we take the natural context out of the equation, we are complicating the already complex lives of these young children.  This is not to say that great outcomes cannot be achieved in the clinical setting, I have done it.  Rather, I am advocating that best practice likely means coming to the children instead of them coming to us, the therapists.
As we progress into the next century of occupational therapy service delivery, I would hope to see therapists leaning toward coaching parents and educating them, so that parents become more effective in their day-to-day interactions with their child.  It should be our role to supply the parents with the knowledge necessary to manage their child's challenges more effectively.  The role of a parent should not change to being the interventionist, but they should be part of the intervention process.  They should be the guiding force that drives the collaborative team efforts to maximize the child's potential.  They should know what their child's goals are in therapy because they should be part of the goal setting process.  Parents also need to be the strong advocates for their child's needs.  As therapists we need to hold the child in mind and to do that most effectively, we must consider the entire child, including their family and home environment.
References:
Pilkington, K. O.  (2006). Side by Side: Transdisciplinary early intervention in natural environments.  [Electronic Version]. OT Practice, 11(6), 12-17.
Siegel, D.J. & Hartzell, M. (2003). Parenting from the Inside Out. New York, NY:  Jeremy P. Toucher/Penguin.
Shahmoon-Shanok, R. (2000). Chapter 14. The action is in the interaction:  Clinical practice guidelines        for work with parents of children with developmental disorders. In ICDL Clinical Practice      Guidelines. (pp.333-371). Bethesda, MD:  International Council on Developmental and Learning Disorders.
Featured Contributor:  Krystal Vermeire, OTR/L
Krystal Vermeire, OTR/L has been practicing pediatric occupational therapy since 2007 in private clinical settings.  She is Sensory Integration certified, allowing her to administer and interpret the Sensory Integration and Praxis Tests.  Krystal enjoys working with children of all abilities.  In her spare time, she leads her daughter's Girl Scout troop and is working towards her Ph.D. in Infant and Early Childhood Mental Health and Developmental Disorders through ICDL Graduate School.  Krystal has taken many continuing education courses, including DIR/Floortime, Beckman Oral Motor Protocol, Interactive Metronome, Myofascial Release, Kinesio Taping techniques, Yoga for Kids, Therapeutic Listening, Sensory Integration and Praxis, and Hippotherapy.  Currently, Krystal is employed as the Supervisor of Occupational Therapy Services at All For Kids Pediatric Clinic in Anchorage, AK where she provides clinic, home-based, aquatic, and hippotherapy services in addition to supervising and mentoring staff.
PediaStaff hires pediatric and school-based professionals nationwide for contract assignments of 2 to 12 months. We also help clinics, hospitals, schools, and home health agencies to find and hire these professionals directly. We work with Speech-Language Pathologists, Occupational and Physical Therapists, School Psychologists, and others in pediatric therapy and education.