OT Corner: Book Excerpt – Sensory Parenting: The Elementary Years
written by Britt Collins, MS, OTR and Jackie Linder Olson – Available through Sensory World, Amazon.com & Barnes & Noble.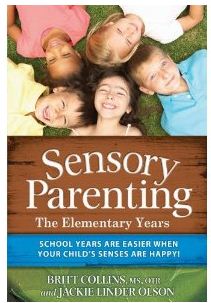 Chapter 8:  Sensory Seasons and Sensory Holidays
 Book Excerpt p.155-157:
Winter
For those of us that don't live on a tropical island, winter means cold air and extreme weather, which can be extra hard on sensory-sensitive kiddos. Try to keep your child's skin from getting chapped by using nontoxic lotions on her body and lip balm on her lips. Remember that she may need sunscreen, even when it's freezing outside.
Severe cold weather can be painful for anyone—especially if you have SPD. If your child can only handle the cold for short periods of time, make sure she has a place to warm up if she gets too uncomfortable. Even a warm car will do.
Mom Tip: If your child feels ill while she's out running errands with you during the winter, it may be caused by changing temperatures repeatedly. Going from the warm house, to the freezing cold outdoors, then into the heated car, then back outside again, and then into a warm department store can affect her sense of homeostasis. Just notice if you see your child getting more and more irritable as you pick out shoes.
Winter Clothes
New winter coats can be bulky and stifling, or, worse, too tight and constricting. It's best if you purchase a coat a size or two too big, and let your child grow into it instead of having it fit snugly right away. Don't forget that your child will be wearing layers underneath the coat, too. The texture of the coat is very important. Wool may keep you warm, but sometimes wool can be itchy. Think about how the fabric will feel if it gets wet as the snow melts. Remember that your child will be putting the coat on and taking it off again several times in one day to go to school, play outside at recess, come home after school, play outside before dinner, and so on. You get the idea. Make sure the coat is functional and that your child is able to maneuver the zippers and buttons by herself.
Take into account that in the winter, your child will likely need to wear layers. Again, soft, breathable fabrics are a must. When you're sizing gloves and mittens, make them snug without being tight. As tempting as it is to go big and have your child grow into these items, you don't want the mittens falling off her hands into the snow. You also have to remember to check the fabrics used and the seams, to make sure they're comfortable and that they don't get rough or soggy when wet. Scarves should be made with soft materials. If you can't find a good pair of earmuffs, you could even use your child's noise-reduction earphones to help keep her ears warm.
OT Tip: Can't get your sensory-sensitive child to wear a hat or scarf? Take her to the mall and let her pick out an animal-shaped hat or whatever she thinks is "cool," and she'll be more likely to tolerate it. Or, start with trying to put a big silly hat on her during dress-up time, even if it's only for a few seconds. You can also try to get her to wear sunglasses on top of her head to help her get used to having something touching her head and ears.
Book Excerpt: p. 170-171
Thanksgiving
Thanksgiving is a time to be thankful for what you have in your life. This can admittedly be difficult when you have child with special needs. When I was growing up with my younger sister, who has a genetic syndrome and cognitive delays, I remember thinking I was grateful to have her as my sister. Then, as I grew into a teenager, it was harder to be thankful. I think this was because I was embarrassed of her, as any teenager can be.
When we have a child with special needs, we have to deal with therapies, medications, diets, special classrooms, schools, doctors, specialists, and more. This is why we, in particular, need to take a step back and take a look at what we are thankful for. Everyone has a different road to travel, and every road comes with its own set of twists and turns. But, I want to challenge you to write down the things you love about your child (or children). Write down his strengths and what makes him special.
I ask the parents I work with to do this exercise, and it's nice to hear them say wonderful things about their son or daughter. After that, we begin talking about their child's particular challenges and how occupational therapy can help him or her. I know that you probably talk a lot about your child's challenges and how you want to help him have a better life. But, remember that you are his family, and your most important job is to love him and care for him.
Order Sensory Parenting: The Elementary Years through Amazon.com


Featured Authors: Jackie Linder Olson and Britt Collins

About Jackie Collins:  Jackie combined her career as a filmmaker and her passion for helping children with special needs by creating Occupational Therapy dvds for parents and teachers, winning an Outstanding Product Award from iParenting.  DVDs include OT in the Home , OT in the School, and their most popular title Yoga for Children with Special Needs.  Jackie co-wrote Sensory Parenting: Newborns to Toddlers and Sensory Parenting: The Elementary Years with Britt Collins, M.S., OTR/L, for Future Horizon's sensory division Sensory World.  All of the above have been born out of her love for her son with sensory processing issues and an autism diagnosis.
About Britt Collins:  Britt Collins lives in Denver CO and works as  an occupational therapist at the STAR Center.  Britt has co-written 2 books Sensory Parenting: Newborns to Toddlers­  and Sensory Parenting: The Elementary Years with business partner Jackie Linder Olson.  The OT/Mom team have focused on a sensory perspective to everyday parenting and provide sensory strategies for moms and dads to go along with the developmental milestones in the baby's first years.  Sensory Parenting: Newborns to Toddlers won 2010 Book of the Year Award in the Parenting Category.  Britt and Jackie also have an award winning OT DVD series that is a visual learning tool for parents, caregivers and professionals to provide supplemental sensory strategies into the home, school and community (www.otdvds.com). In between working as an OT and author, Britt travels the country presenting at various sensory conferences alongside Carol Kranowitz, Temple Grandin, Dr. Lucy J Miller and Paula Aquilla.
112219dup
PediaStaff hires pediatric and school-based professionals nationwide for contract assignments of 2 to 12 months. We also help clinics, hospitals, schools, and home health agencies to find and hire these professionals directly. We work with Speech-Language Pathologists, Occupational and Physical Therapists, School Psychologists, and others in pediatric therapy and education.