Book Review: Learn to Move, Move to Learn by Jenny Clark Brack
Book By: Jenn Clark Brack
Reviewed By: Sunita Murty, M.S. OTR/L
Published/Produced By: Autism Asperger Publishing Company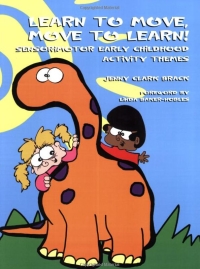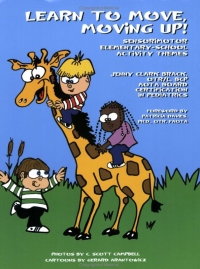 Jenny Clark Brack's Learn to Move, Move to Learn series of books and DVD are great resources for any leader or participant of a small motor and sensory children's group. Being a pediatric occupational therapist myself, I found this resource to be a great way to help lesson plan for group activities as well as educate other staff about all the factors that help a child succeed in his or her school environment.
The Learn to Move, Move to Learn book and DVD nicely describe the sensory systems and the challenges that can occur when integration does not happen properly. Each system is simply broken down with easy to understand explanations. Each individual sense is related to daily childhood activities to further explain the magnitude of impact and importance of altering activities to compensate and further develop skills appropriately. Jenny does a nice job of breaking down all the components of scool readiness skills including motor, social/emotional, cognitive, language and oral motor. Task analysis is discussed to help each child meet the "just right" challenge for optimal learning by adapting tasks based on functional levels. This is a very important concept when helping a child succeed.
The Learn to Move, Moving Up! takes the first book to a more current level by including evidenced-based practice and response to intervention, (Rtl), which are necessary components when collecting data. The second book provides a more in dept look at the sensory system, research to support interventions, assessment and intervention and learning enrichments or therapeutic activities which can easily be added to lesson plans. The book provides a nice checklist that can be provided to teachers by OTs to help determine if a student should be screened or evaluated. Additionally, for the OTs, there are nice breakdowns of developing measurable goals and scaling based on assessment results. The importance of integration of therapy and therapeutic recommendations into elementary school environments are clearly laid out. As many districts are shifting to an inclusive model, following least restrictive environment (LRE), it is important that resources, such as this book, are available to therapists to aid in implementing inclusive treatment activities.
The DVD and books (Learn to Move, Move to Learn and Learn to Move, Moving Up!") include clearly laid out activities in a sensory-appropriate sequence beginning with modulation activities, warm-up, vestibular, proprioceptive, balance, eye-hand coordination, cool down and then fine motor. Suggestions for using the child's cognitive, speech and motor level to make modifications for all children to participate are provided. I appreciated the way that the whole class could participate in their natural school classroom environment allowing for more carry-over. The mention of a transdiciplinary model for all therapists, teachers assistants in their program being involved was also nice to see, as this model helps educate not only the children but also aids each therapist/teacher in learning about the other's focus. The group activities include all sensory-motor, cognitive and speech components that are necessary for learning throughout the day.
Featured Book Reviewer: Sunity Murty, M.S., OTR/L
Sunita has been working with children with special needs since 1998 and as a pediatric occupational therapist since 2004. Sunita received her Masters of Science degree in occupational therapy at Washington University School of Medicine in St. Louis, MO. Her experience includes working with children with austim spectrum disorders, cerebral palsy, trisomy 21, developmental delays, failure to thrive, stroke as well as rare genetic and orthopedic conditions. Sunita has received specialized training in Craniosacral Therapy, Sensory Integration techniques, Therapeutic Listening, Handwriting Without Tears, Greenspan's Floortime Approach, Interactive Metronome, Wilbarger Protocols, Beckman Oral-Motor Assessment and Treatment Protocol and numerous courses in fine motor, visual-motor, sensory interventions and feeding/dysphagia treatment. Sunita currently works as the OT clinical coordinator for Pediastaff and also owns and manages a pediatric therapy clinic called Imagination Therapy. Her passion lies in helping children and their families understand Sensory Processing Disorder to help children live up to their highest potential.
PediaStaff hires pediatric and school-based professionals nationwide for contract assignments of 2 to 12 months. We also help clinics, hospitals, schools, and home health agencies to find and hire these professionals directly. We work with Speech-Language Pathologists, Occupational and Physical Therapists, School Psychologists, and others in pediatric therapy and education.