OT Corner: Handwriting Program Review – TV Teacher Alphabet Beats
Editor's Note for Full Disclosure: Sarah and I met with the folks at TV Teacher last April at AOTA.  Sara and I offered to review TV Teacher on PediaStaff.  A free copy of the 'TV Teacher: Alphabet Beats' program was provided to Sarah at that time. The contents of this review and all opinions expressed herein are Sarah's own. 
by  Sarah Girard, OTR/L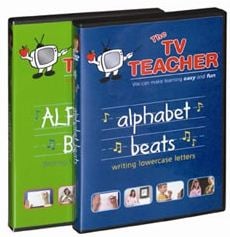 About the Program:
The TV Teacher: Alphabet Beats is a handwriting program that utilizes videos and workbooks in order to teach children their letters, numbers and shapes. The videos are led by Miss Marnie who is 'The Lady of Many Characters' and are not only entertaining, but also attention grabbing.  The 5 minute video chapters for each letter are a novel and great way to encourage handwriting. The videos not only teach how to form the letters, but also teach words that begin with each letter as well. The program recommends that you teach each child at their own pace and when you feel they are comfortable writing one letter, you can move onto the next. If you need to repeat a letter multiple times in order for the child to be comfortable, then that's ok. You can also set the order of letters to what best fits the child as there is no set format for the program. It's an adaptable teaching tool that you can use with a variety of children. I used it with one of the kiddos that I work with and here's what I found:
Who:
The kiddo that I did this program with is a 5 year, 9 month old little girl with a diagnosis of Down Syndrome. She has been in the process of learning her letters but has only been able to form a few of the simpler ones, such as L, H, I, O up until now. Some of her difficulties with handwriting stem from her motor planning challenges, as well as her low tone resulting in decreased hand and grip strength. As a result this kiddo does better with repetition of activities in combination with increased visual and physical prompting (such as hand over hand). Prior to trialing this program, she was avoidant of completing handwriting activities and would become frustrated easily especially with letters she found to be new and/or challenging. She is highly motivated by technology and wasexcited to write when I told her we were going to watch a movie.
Process:
This kiddo came in every week ready to work when we began our sessions with the TV Teacher videos. She actively engaged in the videos by completing the actions Miss Marnie asked as well as verbalizing along with the chants on the video that went along with forming the letters. By the end of most of the videos she was generally copying Miss Marnie's writing on the video by tracing with her finger on the carpet. The videos were sometimes slightly over-stimulating, but this did not seem to affect her overall attention or what she took away from the video session.
Completing the worksheets wasn't a struggle with this kiddo. It became part of the routine and she would pick up the worksheet and bring it to the table to work on tracing and making her own letters. She did well with recalling the chants from the video in order to coach herself along in formation of the letters. Her carry over with forming the letters right after the video was noted to be significantly better then when taught without the video. Her letters on the worksheets are moderately light at this time due to the amount of force she applies when writing as a result of her decreased strength. Her overall control when writing the letters is still decreased, but she is able to demonstrate the correct direction of the strokes when writing.
We attempted to complete the program in alphabetical order, but this showed to be frustrating when getting to some of the trickier letters such as G and K. We are now working on progressing her from the simplest to form (such as L, T, H, I, etc) to getting gradually more difficult.
She did better with re-visiting letters week to week and only adding one new letter per session. Watching 2 letters during a session was attempted during one session, but wastoo much for her and she began to mix up the vocabulary and strokes leading to frustration later in the session. When we went back to one letter per session she did much better and continued to show progress.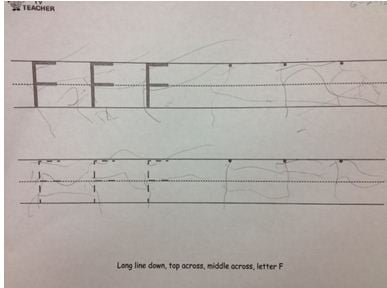 These are samples of her writing. She was unable to form these letters independently before and was only tracing. The letters lack overall control, but are identifiable on paper.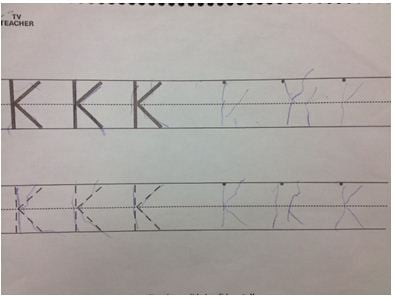 Highlights of the Program:
Catchy: The videos teach you catchy and rhythmic phrases in order to form the letters. The vocabulary to form the letters is also written on the bottom of each page as a visual reminder, as well as the inside cover of the CD. These catchy phrases are repeated often throughout the video, so that you find yourself chanting along with the children by the end of it.
Simple: The worksheets are simple and incorporate only the lines and the letters to trace. There are no distracting pictures or extra visual stimulus on the paper. The space they give you to write your letters is large, making it easy to practice. They also have more advanced workbooks for those kids that need to progress to smaller lines. There are both bold and dotted lined letters to trace, as well as some space to write your own letters. If you love the layout of the worksheets and want to practice more on them, the workbook includes the blank pages at the end and they have a dry-erase board with the same set-up as well.
Grip tips: The back side of the front cover of the work book gives you visuals on how to grip your pencil. They don't just give you the final picture but show you different angles and exactly which fingers to use. For

all

those strong visual learners, this is great!
Adaptive: This program is completely adaptive to your kids. The learning process can be slowed down and sped up if needed. Letters don't have to be done in the workbook and can be done anywhere that is motivating to them. Get creative and use paint, chalk, water or even have them write on the fogged up mirrors after taking a shower.
Entertainment Value: The videos on the Alphabet Beats CD are really entertaining for the kids. Miss Marnie is full of expression and plays a variety of different characters throughout the videos. She does well with engaging the kids and incorporating kinesthetic learning throughout the video by getting them to jump, make a silly face, wave, etc.
Some Things to Consider:
Write as you watch: The first time through watching a new letter chapter, the program recommends that you do not write until after you view the video. After viewing it and learning the chants, then the kiddo can write with Miss Marnie as the video is playing the second time. This can be beneficial for some of the kiddos who have challenges with motor planning and auditory processing so that they can take in the information first and have time to process before having to complete the skill.
Sequence: The book is set up in alphabetical order. If your child is not writing letters yet, you may want to consider starting with some of the easier letters to form and then progressing to the harder letters. For example start letters with combinations of horizontal and vertical lines such as L, T, H, I, E and F. Then you can lead into letters with curved lines and then end with diagonal lines. This way you decrease some of the frustration that may appear and potentially take away from some of the appeal of the program.
Consistency: The rhythmic vocabulary used in this program is great for kids to learn. I would be aware of what other programs your child in completing in school or elsewhere so that the vocabulary to teach the letters is the same over all environments and less confusing.
Overall Thoughts:
Writing can be challenging for some kids. The TV teacher can be a great transitional learning tool to lead into wanting to write more. It's entertaining and memorable for the kids who are learning with it. The TV Teacher may not be right for all kids, but works well with those strong visual learners. I found that the little girl I worked with recalled information from the video better than receiving letter formation verbal cuing from me. It can be incorporated so many ways into therapy sessions that it becomes a great item in the toolbox to utilize for handwriting.
For more information on the TV teacher, please visit: www.thetvteacher.com

About the Author:  Sarah Girard, OTR/L of Starfish Therapies
Sarah graduated from the University of New Hampshire with her Masters degree in Occupational Therapy. She has experience working in pediatric sensory integration, early intervention, adolescent psych, and school based settings. Sarah has traveled to Mexico where she volunteered at a local orphanage treating children with various developmental disabilities and educating staff members in how to follow through with recommended treatments. She is Handwriting Without Tears certified and has been trained in Sensory Integration and Praxis Theory, The Alert Program "How Does Your Engine Run?", Vital Links Listening Program, Sequential Oral Sensory (S.O.S.) approach to feeding and Vestibular Rehabilitation. Sarah has begun training in the Masgutova Neuro-sensory-motor Reflex Integration (MNRI) Method. Sarah enjoys working with children as well as her time spent working with Occupational Therapy students in her role as a fieldwork educator.   She currently works for Starfish Therapies.
Please support PediaStaff contributors and visit Starfish Therapies.
PediaStaff hires pediatric and school-based professionals nationwide for contract assignments of 2 to 12 months. We also help clinics, hospitals, schools, and home health agencies to find and hire these professionals directly. We work with Speech-Language Pathologists, Occupational and Physical Therapists, School Psychologists, and others in pediatric therapy and education.