OT Corner: Horsepower from Within – How Horses Restore Strength and Spirit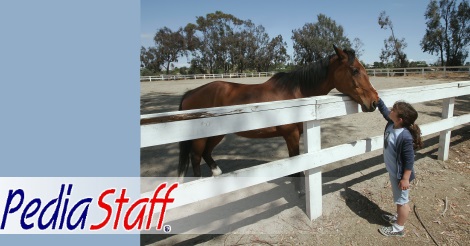 By: L A Pomeroy
Reprinted with the express permission of Holistic Horse as originally published on their website.
"See me. Feel me. Touch me. Heal me." –The Who
"People have a need to touch animals in order to connect with them," observes Dr. Temple Grandin, who was diagnosed with autism as a child but went on to earn a PhD in animal science from the University of Illinois and accept an associate professorship at Colorado State University. She has authored five books, including Animals in Translation, published in 2005, that explore and explain what life with autism can teach us about communicating with other species through resources other than language.
She compares autism's heightened sensitivity to stimulus as responses by animals whose senses – hearing, sight, smell, taste and touch – are more developed than our own. Her observations suggest that, emotionally and physically, when we touch horses, they can indeed touch us back.
From autism to incarceration, horses offer hope for a better tomorrow.
WHAT IS AUTISM?
The American Psychiatric Association (2007) defines autism as a pervasive, neurological developmental disorder characterized by severe impairment in several areas of development, including social, communication, and motor skills functioning.
On top of its emotional toll, autism's economic impact is estimated at $30,000 a year per child, and the cost of care, over a lifetime, can run into the millions. A 2007 Family Experiences with Autism Survey showed that families of autistic children also often have financial problems due to un-reimbursed medical and therapy expenses.
As the rate of autism in the United States increases (from an estimated one in every 140 children, to new data suggesting the rate is as great as one in every 91 births), exploring the therapeutic benefits of horses and heeding the first-hand advice of those living with autism, like Grandin, become more important.
Another autistic author and speaker, Deborah Lipsky, says she, too, "found solace in the company of animals." Lipsky, who holds a masters degree in education and counseling, was diagnosed in her 40s with high functioning autism, and received the 2005 Autism Society of Maine's outstanding volunteer award and 2006 Temple Grandin Award. She was a keynote speaker at the 2008 North American Riding for the Handicapped Association (NARHA) Conference, where she spoke on "Horses and Individuals with Autism: a Natural Therapeutic Relationship."
A NATURAL RELATIONSHIP
"I got through my teenage years thanks to horses," Grandin says. "Horseback riding was joyous to me. (People and horses) spent a lot of time evolving together, and we used to be partners. It's not just the human telling a horse what to do. Horses are super-sensitive to their riders and constantly responding to their needs without being asked. School horses will stop when they feel their rider lose his balance. That's why learning to ride a horse is different from a bicycle. The horse makes sure nobody gets hurt."
Autism has a lot in common with obsessive-compulsive disorder, which the Diagnostic and Statistical Manual lists as an anxiety disorder. So while Grandin would later reflect that the cheaply-purchased riding school horses of her youth often came with their own emotional problems, those early horse-human connections helped her replace anxiety with confidence and trust.
"I remember looking down to make sure my horse was on the right lead. My sense of balance was so bad I could never learn to ski, yet there I was, moving my body in sync with the horse's body, to help him run right."
What Grandin experienced is something equine-assisted and therapeutic riding center managers, like Clea Newman, with Giant Steps CT, have also observed: "Exposure to these gentle animals is invaluable in allowing (students) to form strong relationships which enable them to grow and improve their sense of self and self esteem. Our riding program has provided the opportunity for students to work on fine motor, motor planning, and bilateral balance skills, in a fun and hands-on manner."
Giant Steps CT, funded by the EQUUS and Newman's Own foundations, is a Connecticut State-approved private school in Southport for children, ages 3-21, who have been diagnosed with neurological impairments and/or Autism Spectrum Disorder (ASD).
At Pegasus Farm, a therapeutic riding facility in northeast Ohio, Jackie Baker adds that riding is more than physical exercise: "While the movement of the horse is great for improving circulation, muscle control, and coordination, there is also a very profound bond that riders, healthy and disabled, develop with their mounts."
According to Baker, riding addresses key symptoms affiliated with autism:
communication and social skills
motor skills
responses to verbal cues and external stimuli
"Horses are companion animals. They want to understand you and for you to understand them. Because of the love and trust they give, their fine-tuned responses and desire to please, horses are effective in creating a bond with autistic riders that encourages communication and interaction. Riders learn to focus on something outside of themselves, which is an important step. When they connect with horses, it builds trusting relationships that are life-changing."
THE HORSE BOY
One such life-changing ride that gained recent national attention was that of Rupert Isaacson, who took his autistic son, Rowan, on a pilgrimage to Mongolia. Isaacson, a lifelong horseman and Pony Club graduate, noticed that Rowan found deep relaxation from the back of a neighbor's horse. It was a dramatic contrast to his son's otherwise daily plague of temper tantrums and incontinence.
"Being on a horse was the only time Rowan stopped crying," says Fran Jurga, who worked with the family as they chronicled their experience in a book, The Horse Boy. Rowan's father, who was also familiar with shamanic traditions, gambled that his son might find relief through a culture – like Mongolia's — still steeped in horses and spiritual healing.
The global journey culminated in a two-day trek, by horseback, up a 12,000-foot mountain near the Russian border to seek out among its reindeer herders a man reputed to be its most powerful shaman. While the healing rituals, and his many hours on horseback, did not eradicate Rowan's incurable autism, his father describes him today as "a new child." He plays with other children, and his intellectual development is on par with his peers. "In fact," Isaacson says, "after learning fractions on horseback rather than through classroom worksheets, Rowan is able to calculate mixed numbers accurately in his head."
"More and more children are autistic," Isaacson adds. "Only in developed nations are autistic people isolated from society. In more 'primitive' cultures they are accepted as artists, musicians and often, shamans. Most shamans have had a neuro-psychiatric episode and it makes them more sensitive and aware of spiritual dimensions. Our quest was not to seek a cure, but healing, for Rowan and our family. In that, the trip was a success."
Isaacson has since opened an equestrian center, training horses in classical methods using verbal cues, so that developmentally challenged riders, who seldom speak to people, can communicate with the horses. He hopes to develop a quadrille performance troupe, much like the Spanish Riding School, composed of autistic riders.
AN OPEN MIND
What may have helped Rowan, in part, was unconditional acceptance — by a culture and from the horses that shared his journey.
Grandin posits, "The main difference between animal and human emotions is that animals aren't ambivalent. If an animal loves you, he loves you no matter what. He doesn't care what you look like or how much money you make. An autistic person's feelings are direct and open, just like animal feelings."
Children share more in common emotionally with animals and autistic people because their frontal lobes (the seat of complex social behavior) are still growing. "Frontal lobes are one big association cortex," Grandin explains, "tying everything together, including emotions like love and hate, that would probably be better off staying separate."
She points to the triune brain theory that outlines brain development in three evolutions: the oldest, reptilian brain, corresponds to basic life support functions, like breathing; the paleomammalian brain corresponds to brain development in mammals and handles emotion; and the neomammalian brain, in primates and people, oversees reason and language. Nerves connect the three areas but each has its own control system and "personality."
"We know animals and humans share the same core emotions because we know how core emotions are created by the brain, and there's no question animals share that biology with us. Animals and people have an awful lot in common."
Simply put, the animal in one touches a chord inside the animal of the other.
Our Featured Organization: Holistic Horse
L.A. Pomeroy has more than two decades' experience in equestrian sports, from FEI to rodeo, rare breeds and equine zoology, to fine art and history. She grew up in the Catskills near one of North America's only Przewalski herds, has photographed Chincoteague ponies, and, after graduating summa cum laude from Johnson & Wales University with a degree in Equine Business, worked for USET public relations, later overseeing Equestrian Press for the 1996 Olympic Games, and serving as contributing editor for Mike Plumb's Horse Journal. She joined the Holistic Horse family in 2007.
In 2008, L.A.'s feature work earned her a USEF Pegasus Awards nomination, American Horse Publications Annual Awards Honorable Mention, and praise from AHP judges for tackling a topic "that needed a story" — equine breast and ovarian cancer — published in Holistic Horse.
Please support our contributing authors and visit Holistic Horse
PediaStaff hires pediatric and school-based professionals nationwide for contract assignments of 2 to 12 months. We also help clinics, hospitals, schools, and home health agencies to find and hire these professionals directly. We work with Speech-Language Pathologists, Occupational and Physical Therapists, School Psychologists, and others in pediatric therapy and education.