OT Corner: Potty Training and the Sensory Defensive Pre-Schooler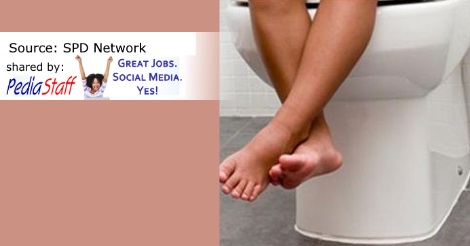 [Source:  SPD Blogger Network]
Reprinted with permission of the SPD Blogger Network
by "Reinventing Mommy"
This post isn't for the faint of heart.  Two words – two little words – that can strike fear into the hearts of every special needs parent.  It rocks our worlds, forces our children to confront challenges, and causes enough headaches that buying ibuprofen in bulk seems like a good plan.
I'm talking of course about potty training.
My boy is 3.5 years old.  He has a multitude of special needs, but the ones that seem most applicable to the potty training dilemma are his autism, his hypotonia, and – of course – his SPD.  So, what do you get when you put a kid with communication challenges, sensory issues, and low-tone together with a potty?  A whole lot of nothing happening, that's what.  Or, at least that's what's happening (or not happening) in our house.
There was a point long before we had any diagnoses for Jack – he was about 18 months old – when he suddenly started peeing every evening in the bathtub.  We made a big deal about it, pointing it out, trying to give words to what was happening.  He was non-verbal (we were still in our "denial period, so we didn't want to admit that anything was wrong), but we thought that if we just made going potty part of the bath-time routine, maybe we could start down the potty training road.  So, we tried to sit him on the potty, supported of course.
He hated it.  We're talking full-on, screaming, flailing, crazy man hated it.  We didn't know anything about sensory issues at the time.  We just figured he wasn't ready.
Come Jack's 2nd birthday and his autism diagnosis, plus others.  He was testing at the level of a 7-month old at that time, so potty training was low on our priority list.  It was far more important that he learn to eat without vomiting, talk, and simply be able to have some awareness of his surroundings without having a meltdown.  As the year went on and we were on the way with therapies and services, we never forgot that potty training.  It was hard to forget when friends were posting on Facebook about their potty training successes ("M has gone 3 days without an accident…yay!") and I was bragging about other successes ("Jack hasn't thrown up in 48 hours!  A record!").
As the year went on and our knowledge of sensory issues grew, we accumulated just about every toileting apparatus that they make for the fledgling toddler/preschooler.  We bought potty seats (with Thomas the Tank Engine no less, complete with matching stool!) all the way to stand-alone potty chairs with lovely plush seats (none of the hard plastic pee guards).  We weren't going for going potty on the potty yet; we would be happy with him sitting on it without having to hold him down kicking and screaming.  We'd try every now and again and – having a bad reaction each time – would back off so that we did not turn the toilet into an object of fear.
We even considered letting him pee standing up like a "big boy".  I know, all the moms out there are cringing at the thought (and the mess), but we were desperate for finding something that worked.  Unfortunately, as we were soon to find out, Jack had almost no awareness of what was going on with his body when he went to the bathroom.  Unfortunately, this made even peeing standing up a challenge.
This scenario has played out at various times in the past two years.  Honestly, toileting still hasn't been super high on our priority list, but it's getting higher on the lists of others.  Jack's medical team and several of his therapists don't seem to be concerned that potty training hasn't really gotten off to any real start at all; in the words of Jack's doctor, there are simply "bigger fish to fry at this time".  However, I'm starting to get some pressure from some people to really get tough about it.  I can hear their chiding now…
You don't want to be changing the diapers of a 4-year old.  He's one of only 2 in his class that isn't potty trained.
It's starting to drive me nuts.  I want to scream "Do you think I enjoy changing diapers?  Believe me, I know how gross it is!"
Here's the thing – we are trying.  We are seriously trying.  We are just trying to get him comfortable with sitting on a toilet for even 3 seconds.  We haven't achieved that yet.  We're trying to help him gain some awareness of when he needs a diaper change.  He's unaware of when he's peed, and not always aware of BMs.  He has an IEP goal right now of being able to request a diaper change – in any communication mode he chooses – when he needs one, but he's not doing that, either.  I've picked him up from school several times lately to find that he has been wearing a soiled diaper.
Right now, he's testing in the 18-20 month range in most areas of development.  I want to scream to people "Would you expect a 18-20 month old to be potty trained, yet?"  No, you wouldn't.  So, just because he's in a 3.5 year old body doesn't mean that he's ready.
It certainly doesn't mean that I need to get pressured.  As a special needs parent, it's hard enough cramming your day full of feeding, oral-motor, social/engagement, fine/gross motor, and communication – never ending communication – activities, plus a full sensory diet.  Hearing from others that there is just one more thing that he "should" have accomplished by this point is really more than I can take some days.
I've had to acknowledge that no amount of pressure or goal-setting will make Jack accomplish anything any faster.  He'll do it in his own time, and that may have to be enough for now.
Please support our contributors and Visit the SPD Blogger Network
PediaStaff hires pediatric and school-based professionals nationwide for contract assignments of 2 to 12 months. We also help clinics, hospitals, schools, and home health agencies to find and hire these professionals directly. We work with Speech-Language Pathologists, Occupational and Physical Therapists, School Psychologists, and others in pediatric therapy and education.