Bilingual Speech-Language Pathology. Where Are We Today?
By: Alejandro Brice, PhD, CCC-SLP, Ellen Kester, Ph.D., CCC-SLP, and Roanne Brice PhD., CCC-SLP
Personal and Professional History
In 1990, when I graduated with my Ph.D., the area of bilingual speech-language pathology was still in its infancy. Very few clinical programs at that time even acknowledged the existence of this field. My clinical experiences have been working in schools, working in university clinics, and working in private practice in a bilingual community (i.e., Miami-Dade county with 80% of the population being Spanish speaking). Over the past 21 years I have created and taught specific courses at Northern Arizona University, Minnesota State University at Mankato, the University of Central Florida, Valdosta State University, and now the University of South Florida St. Petersburg. The courses that I have taught have included topics of first and second language acquisition, cultural and linguistic diversity, assessment of culturally and linguistically diverse (CLD) populations, and intervention with English learners (EL) and CLD populations. My research has focused entirely on bilingual issues of individuals with and without disabilities.
From the mid 1980's to the mid 1990's ASHA offered a series of conferences on multicultural education at Sea Island, Georgia. These conferences featured key speakers and was one of ASHA's attempts to disseminate and infuse content regarding cultural and linguistic diversity into university curriculums. In 1991, ASHA offered "Adelante, the National Forum on the Communication Needs of the Hispanic Population." In 1992, ASHA offered the "Bilingualism/bilingüismo: A clinical forum." In 1995, Special Interest Division 14 (now special interest group 14) was formed , i.e., Communication Disorders and Sciences in Culturally and Linguistically Diverse Populations. The Journal of Multilingual Communication Disorders existed from 2001 to 2006 (where in 2007 it merged with Clinical Linguistics and Phonetics). Early books were written by Li-Rong Lilly Cheng, Hortencia Kasyer and others. Now we have books from Brian Goldstein, Kathryn Kohnert, Henriette Langdon, Alejandro Brice and Roanne Brice (all speech-language pathologists).
We have seen the transition from no emphasis to programs offering certificates or credentials for working with bilingual populations. However, the crucial question remains as to where we are today.
Review of Bilingual Certificate Programs
A review of bilingual speech-language pathology certificate programs was conducted. Since this review was not exhaustive, it is not being presented as a study or meta-analytic review. Instead, it is a sampling of current programs. Only universities were sampled (as opposed to corporations or non-educational entities). A total of ten programs were examined from Arizona, California, New Mexico, New York, Texas, and Wisconsin. All programs were either listed with ASHA as a bilingual emphasis program or searched on the web using the Google search engine.
Table 1. Bilingual Speech-Language Pathology Certificate Programs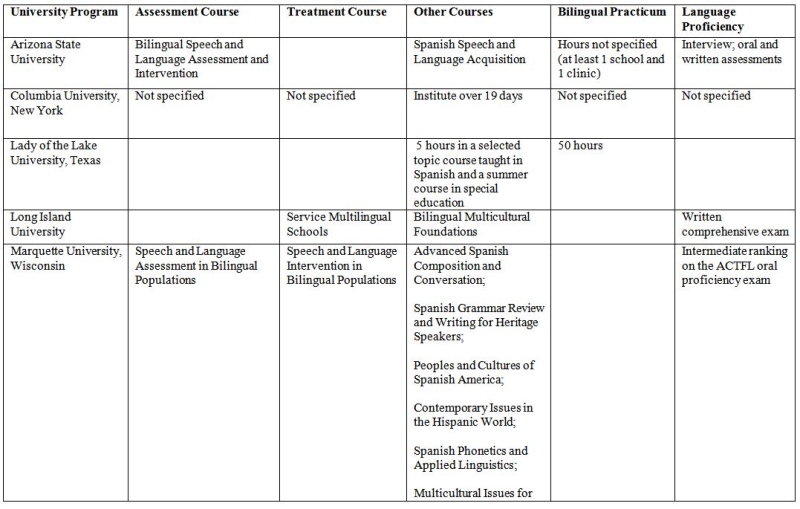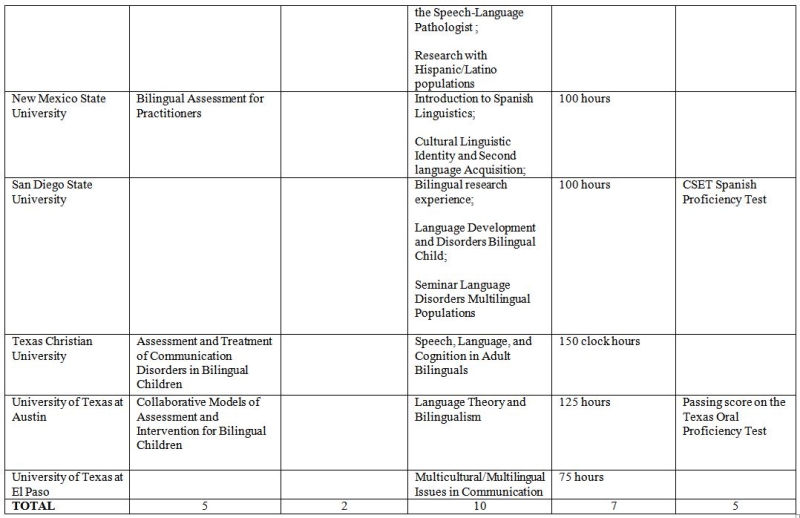 Conclusions
From this limited data set some trends are evident. All university programs offer specialized courses in bilingual, multicultural issues in speech-language pathology. Half of the programs offer a bilingual assessment course. All offer other course offerings with mostly a concentration in Spanish. Seven of the 10 programs require a clinical practicum component; although, the hours range from 50-150 hours. Half of the programs require language proficiency in another language other than English. Some programs require a bilingual research component. What has changed since 1990 are: (1) a recognition and specialization of course offerings; (2) clinical practicum requirements; (3) language proficiency requirements; and, (4) for some programs a research requirement. What is also seen is a continuum of offerings with some more complete than others. A standardization of these requirements is yet to be seen. However, installment of these four major components can be seen as progress.
This Month's Featured Authors:
Alejandro Brice, Ph.D., CCC-SLP University of South Florida St. Petersburg
Ellen Kester, Ph.D., CCC-SLP Bilinguistics, Inc.
Roanne Brice, Ph.D., CCC-SLP University of Central Florida
Dr. Alejandro E. Brice is an Associate Professor at the University of South Florida St. Petersburg in Secondary/ESOL Education. His research has focused on issues of transference or interference between two languages in the areas of phonetics, phonology, semantics, and pragmatics related to speech-language pathology. In addition, his clinical expertise relates to the appropriate assessment and treatment of Spanish-English speaking students and clients. Please visit his website at http://scholar.google.com/citations?user=LkQG42oAAAAJ&hl=en or reach him by email at [email protected]
Dr. Ellen Kester is a Founder and President of Bilinquistics, Inc. http://www.bilinguistics.com. She earned her Ph.D. in Communication Sciences and Disorders from The University of Texas at Austin. She earned her Master's degree in Speech-Language Pathology and her Bachelor's degree in Spanish at The University of Texas at Austin. She has provided bilingual Spanish/English speech-language services in schools, hospitals, and early intervention settings. Her research focus is on the acquisition of semantic language skills in bilingual children, with emphasis on assessment practices for the bilingual population. She has performed workshops and training seminars, and has presented at conferences both nationally and internationally. Dr. Kester teaches courses in language development, assessment and intervention of language disorders, early childhood intervention, and measurement at The University of Texas at Austin. She can be reached at
[email protected]
Dr. Roanne G. Brice is the Assistant to the Chair for the Department of Child, Family and Community Sciences at the University of Central Florida. Her research interests have focused on language and beginning literacy skills in bilingual children and students with disorders/disabilities. In addition to teaching at the university level, Dr. Brice has been an itinerant and self-contained classroom speech-language pathologist as well as a general education classroom teacher. She may be reached at: [email protected]
PediaStaff hires pediatric and school-based professionals nationwide for contract assignments of 2 to 12 months. We also help clinics, hospitals, schools, and home health agencies to find and hire these professionals directly. We work with Speech-Language Pathologists, Occupational and Physical Therapists, School Psychologists, and others in pediatric therapy and education.