Book Review: Preschool Stuttering: What Parents Can Do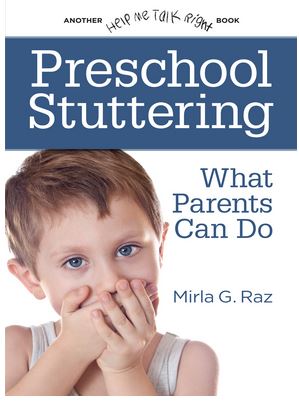 [Source:  Twin Sisters Speech and Language Therapy]
The author of the book that we are reviewing today is, Mirla G. Raz.  She is a certified and licensed Speech-Language Pathologist who has been working as a clinician for over 40 years. She has said, "I have been keenly aware of the significant role parents play in the progress of their children during therapy.  When parents understand their child's disorder and commit to doing their part to help their child, their child's progress is positively affected. When it comes to helping the preschool child who stutters, the assistance of the parents is paramount." This advice is an example of why she wrote the book, Preschool Stuttering: What Parents Can Do, and her 40 years of personal experience helps to illustrate why we feel that she has the background and knowledge to do so.
First, we would like to say that we feel that Preschool Stuttering: What Parents Can Do, is a thorough and complete book that provides valuable information on stuttering.  It helps the reader to better understand what stuttering is, ideas behind causes, the viewpoint and feelings associated with stuttering, and what can be done to help a preschooler who is exhibiting signs.
What we also like, is that the book is free of technical jargon and that it easy to read!  In fact, it has been designed for a variety of reading audiences, i.e., parents, speech pathologists, speech assistants, teachers and/or pediatricians and all of them will be able to read and understand the useful information that is provided.This makes the information easy to explain to others.
Summary:
When parents first hear their child stutter, they may feel scared and helpless. They may wonder what they can do to help him/her so that they don't grow up stuttering. Preschool Stuttering: What Parents Can Do gives parents the tools that will help them help their child. The book outlines and explains the following and more:
-what happens when a child stutters
– stuttering facts
– the role of emotions in stuttering
– the emotions and roles of the parents
-what can cause the child's stutter to be better or worse
– the impact of the child's environment
-what parents can do if they want to help their child stop stuttering
-when and where to seek professional help
-what to expect when seeking professional help
In chapter one, "Understanding Stuttering," many important points are made which address parental concerns and questions about their child's stuttering.  It will also help clinicians as they work with the preschool population as they will have an easy to read guide for the stuttering population on their case loads.  Highlights of the chapter include the importance of mentioning that there is no known medical reason for stuttered speech along with the mention thatparents themselves are not the cause of the stutter.  The importance of early intervention is also described. Chapter one helps the reader to quickly identify how it will be an important stuttering resource to caregivers and therapist. It outlines and guides them through a variety of questions and concerns and shows them what type of useful information that will be discussed in the next chapters.
Chapter two "Viewpoints and Reactions" is another informative chapter that provides a lot of guidance. Parents are often concerned with how society will react to their child who stutters and they have their own perceptions on it as well. It was fascinating to read how Ms. Raz actually gives researched based evidence on how the actual person who stutters view themselves versus how others do. The chapter continues with easy to understand examples of actual stuttering moments and helps to characterize a mild, moderate and severe stutter. These examples provide excellent information for parents and therapists.
Chapter three "Stuttering and Emotions" is an incredibly well written and valuable chapter. It addresses how children react to their stutter, and how very important it is to watch and listen to children who stutter. Understanding how emotions are such a key factor in stuttering is probably the most important lesson for parents and therapists to remember. Parents play such an important role in aiding how a child will react and feel about their stuttering moments. The chapter has a wonderful list of do's and don'ts listing advice on what should be avoided and what can be implemented as more beneficial along with the reasons why. The importance of listening first and then reacting is highlighted throughout and is so very true as I've seen this time and time again in my own home observed therapy sessions where the family unit is gathered all around the stutterer.
Chapter four "Different Environments, Events, and People" is a chapter where Ms. Raz details how the structured environment enhances fluency. It discusses the different types of home environments that children live in.  Here is a very interesting section from that chapter:
Pg 40:                   
A recent study examined different patterns of parenting between families of children who stutter and those who do not stutter. It was found that caring, less demanding and less authoritarian parenting styles contributed to fluency. Demanding, authoritarian parents and lack of parental warmth impeded fluency (Beilby). This is not to say that a lack of rules and discipline is good. Rather, it is important that children have rules to follow and that parents be consistent in their discipline without being authoritarian. 
This preschool stuttering book makes it easy for a parent to decipher which type of home structure that theirs may fall under. It gives helpful advice on what environment is most beneficial for a child who stutters. It continues on to give advice for other environments (such as preschools and day cares) and how events such as holidays and stressful occasions can influence stuttering in children. It reveals helpful information for other family members and other relatives as well.
Read the Rest of this Book Review on Twin Sisters Speech
PediaStaff hires pediatric and school-based professionals nationwide for contract assignments of 2 to 12 months. We also help clinics, hospitals, schools, and home health agencies to find and hire these professionals directly. We work with Speech-Language Pathologists, Occupational and Physical Therapists, School Psychologists, and others in pediatric therapy and education.