Book Review: Thinking Person's Guide to Autism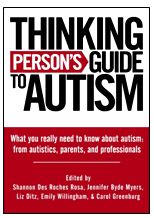 Edited By: Shannon Des Roches Rosa, Jennifer Byde Myers, Liz Ditz, Emily Willingham, and Carol Greenburg
Reviewed By: By Lee A. Wilkinson, PhD, NCSP
Autism is a neurodevelopmental disorder with no known cause or cure. Unfortunately, families are often exposed to unsubstantiated, pseudoscientific theories, and related clinical practices that are ineffective and compete with validated treatments, or that have the potential to result in physical, emotional, or financial harm. The time, effort, and financial resources spent on ineffective treatments can create an additional burden on families. Thinking Person's Guide to Autism, edited by Shannon Des Roches Rosa, Jennifer Byde Myers, Liz Ditz, Emily Willingham, and Carol Greenburg is intended to provide a "toolkit" of reliable information and experienced perspectives from "autism parents, autistics, and autism professionals" on which to make rational and informed autism-related decisions.
The book is a collection of 70 short personal essays, most of which were previously published or appeared on blogs and internet websites. The audience is primarily parents of children with autism, family members, individuals on the spectrum, and others who have been personally touched by this complex disorder. The content covers a wide range of topics, including advocacy and rights, neurodiversity, sensory issues, schools and education, adults on the spectrum, behavior management, relationships, employment, inclusive education, medication, and controversial therapies. The essays are organized by topic and include the following sections: 1. After the Autism Diagnosis: First Steps, 2. Practical Advice for Autism Parents, 3. Caregiving and Autism, 4. Therapies and Service Providers, 5. Causation and Dubious Therapies, 6. Acceptance & Inclusion from the Parent/Neurotypical Point of View, 7. Autism-Adult Voices, 8. Autism-Parent Voices, and 9. School and Education Issues. A section containing resources (books, movies, online resources, and blogs) follows the compilation of essays.
The essays offer a broad range of helpful information, guidance, and practical advice and are best described as "research-informed" opinions. The section dealing with "Causation and Dubious Therapies" warrants particular mention as it reflects the book's overarching goal of providing the reader with clear, reliable information and experienced perspectives on the myriad alternative interventions and treatments for autism. There are no known interventions or treatments that can cure autism, and there are very few which have been scientifically shown to produce significant, long-term benefits. Essays in this section address complementary and alternative medicine (or CAM) treatments such as elimination diets, dietary supplements, and biological agents that are not generally supported by scientific research. As the editors so aptly note in the book's introduction, "…the best defense against pseudoscience is to apply your best critical evaluation skills. Thinking critically is one of the most important actions we can take for those we love, and for ourselves."
Overall, Thinking Person's Guide to Autism provides a much needed rational and critical thinking approach to the confusing array of unproven methodologies, anecdotal claims, and pseudoscientific practices which appear to be so prevalent in the autism community. It also does much to promote a "positive psychology" of autism by moving beyond agendas and embracing both awareness and acceptance. Autism professionals will also find this book a helpful resource for understanding the perspectives and daily challenges of individuals and families whose lives have been affected by autism.
Rosa, S., Myers, J., Ditz, L., Willingham, E., & Greenburg, C. (Eds.) (2011). Thinking person's guide to autism. Redwood City, CA: Deadwood City Publishing.
This Month's Featured Book Reviewer: Lee A. Wilkinson, EdD, PhD, NCSP
Special Thanks to Lee Wilkinson for reviewing this book for PediaStaff.
Lee A. Wilkinson, EdD, PhD, NCSP is an author, applied researcher, and practitioner. He is a nationally certified school psychologist, registered psychologist, and certified cognitive-behavioral therapist. Dr. Wilkinson is currently a school psychologist in the Florida public school system where he provides diagnostic and consultation services for children with autism spectrum disorders and their families. He is the author of the award winning book "A Best Practice Guide to Assessment and Intervention for Autism and Asperger Syndrome in Schools" published by Jessica Kingsley Publishers. Dr. Wilkinson can be reached at http://bestpracticeautism.blogspot.com.

PediaStaff hires pediatric and school-based professionals nationwide for contract assignments of 2 to 12 months. We also help clinics, hospitals, schools, and home health agencies to find and hire these professionals directly. We work with Speech-Language Pathologists, Occupational and Physical Therapists, School Psychologists, and others in pediatric therapy and education.