Focus on Bilingualism: Assessing Speech Skills in Bilinguals
by: Ellen Kester, Ph.D., CCC-SLP and Alejandro Brice, Ph.D., CCC-SLP
There is a considerable amount of information available about the assessment of speech skills in Spanish-English bilinguals but it is more difficult to find information about other languages.   We provide here a framework for taking both languages of the bilingual into consideration in the assessment of speech skills.
There are three key pieces of information that are needed to effectively evaluate speech skills in a bilingual child.  They are:
Shared and unshared sounds/processes
Developmental acquisition within each language
Phonotactics of each language
Shared and unshared sounds
In order to know whether we might expect a child to have difficulty with specific sounds, we need to know what their exposure is to those sounds.  For the purposes of this article, we will use Arabic as our child's first language and English as their second language.  We need to know what the sounds are that exist in English but do not exist in Arabic.  We would expect that an Arabic-speaking child who is in the (multi-year) process of learning English as their second language might have difficulty pronouncing sounds that they have not had a lot of exposure to.  When we look at the chart below, we see that the consonant phonemes /v/ /ɺ/  /g/  /ŋ/  /ʃ/  /ʒ/ /tʃ/  /dʒ/ are all unique to English.  If a child from an Arabic background is struggling only with sounds that do not exist in their native language, this is likely a result of second language influence and the normal process of learning a second sound system.  If, however, the child is struggling with shared sounds in the middle of the Venn diagram, we might be more concerned about their speech development.  The same process can be completed for the vowel phonemes in each language.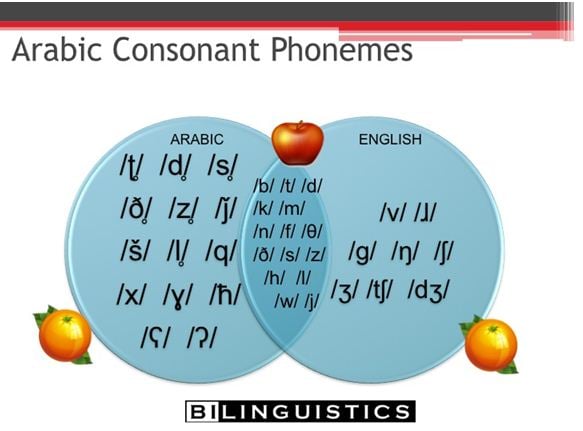 Ages of Acquisition
The second important piece of information we will need is information about normal developmental acquisition of sounds in each language.  It will be difficult to find this information specifically for bilingual speakers of each language, but information about monolingual speech acquisition in each language can help drive our clinical assessment.   Below is a chart that includes information about the acquisition of sounds in monolingual speakers of Arabic and English.  It is a simplified version of information presented by Amaryeh, M. M., Dyson, A.T. (1998).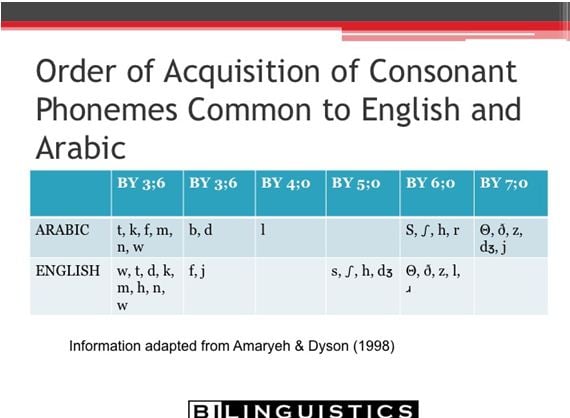 Phonotactics
Another important piece of information is that of the phonotactics, or allowable sound sequences, in each language.  Phonotactic rules inform us about whether certain sounds are permissible in certain word positions or with other consonants.  Below are some of the phonotactic constraints of Arabic.
No more than two consonant sounds can occur together.
Words can start with a vowel or a single consonant
Words cannot start with a consonant cluster
We can use this information to help us understand whether errors in a child's second language might be a result of an influence from their native sound system.  For example, if an Arabic-speaking child reduces an initial consonant cluster in English, we can look to the phonotactic constraints of Arabic to explain it.
When we take these three pieces of information into account, we can make a solid clinic judgment about a child's speech development in any pair of languages.  When working with other languages we often work with interpreters to complete an assessment.  The interpreter can help the SLP evaluate the quality of the sounds but most interpreters do not walk into an assessment with comparative information about two languages.  The SLP should do this research in advance to be able to have a solid understanding of the speech patterns of their client.
Amaryeh, M. M., Dyson, A.T. (1998). The Acquisition of Arabic Consonants. Journal of Speech, Language and Hearing Research, 41, 642
This Month's Featured Authors:
Alejandro Brice, Ph.D., CCC-SLP University of South Florida St. Petersburg
Ellen Kester, Ph.D., CCC-SLP Bilinguistics, Inc.

Dr. Alejandro E. Brice is an Associate Professor at the University of South Florida St. Petersburg in Secondary/ESOL Education. His research has focused on issues of transference or interference between two languages in the areas of phonetics, phonology, semantics, and pragmatics related to speech-language pathology. In addition, his clinical expertise relates to the appropriate assessment and treatment of Spanish-English speaking students and clients. Please visit his website at http://scholar.google.com/citations?user=LkQG42oAAAAJ&hl=en or reach him by email at [email protected]
Dr. Ellen Kester is a Founder and President of Bilinquistics, Inc. http://www.bilinguistics.com. She earned her Ph.D. in Communication Sciences and Disorders from The University of Texas at Austin. She earned her Master's degree in Speech-Language Pathology and her Bachelor's degree in Spanish at The University of Texas at Austin. She has provided bilingual Spanish/English speech-language services in schools, hospitals, and early intervention settings. Her research focus is on the acquisition of semantic language skills in bilingual children, with emphasis on assessment practices for the bilingual population. She has performed workshops and training seminars, and has presented at conferences both nationally and internationally. Dr. Kester teaches courses in language development, assessment and intervention of language disorders, early childhood intervention, and measurement at The University of Texas at Austin. She can be reached at [email protected]
PediaStaff hires pediatric and school-based professionals nationwide for contract assignments of 2 to 12 months. We also help clinics, hospitals, schools, and home health agencies to find and hire these professionals directly. We work with Speech-Language Pathologists, Occupational and Physical Therapists, School Psychologists, and others in pediatric therapy and education.