Guest Blog: Having a Dangerously Good Time in Speech Therapy
By: Erik X. Raj, CCC-SLP
Copyright 2011. Reprinted with the express permission of the author as it appeared on his blog Artic Brain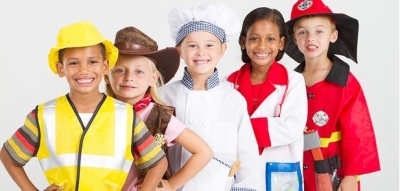 Regardless of what grade my students are in, I always make it a point to educate them about the importance of having a job that helps those around them. In my opinion, it is crucial that children learn about the neighborhood they live in and about who helps to make their community a better place through their job. Teaching our speech students about various occupations that men and women have can open their minds to jobs they never knew existed and also help to improve speech and language at the same time. It is a win/win situation!
Let's talk about jobs!
A few days back when I was talking about occupations/community helpers to my students, I started to notice two interesting things. The first was that a humongous amount of jobs seemed to have the /R/ sound somewhere in the title. Second, the jobs often were pretty dangerous. I was excited to realize this trend because while my students were coming up with and pronouncing amazing /R/ sound occupations, I took the opportunity to ask them the question, "Do you think that job is dangerous? If so, tell me why and how." They LOVED to think about this and it was a joy to see their brains exercising their articulation AND language muscles. In my speech therapy room, it is all about combining articulation and language therapy. That is how we create the most effective communicators.
My favorites
Check out some of the fantastic occupations that my speech therapy kiddos came up with. I also included their responses to my "dangerous" question:
Logger (final R) – "Dang, that job is dangerous because a tree could fall on you or maybe the chainsaw could cut your arm off my mistake."
Fishing Worker (medial R and final R) – "That could be real dangerous, yo. What if a shark or whale eats you? Or your ship sinks in the middle of the ocean like the Titanic did?"
Farmer (final R) – "Working in the sun all day, you might faint. Fainting is dangerous because your heart might stop beating. My mom says to always drink water if you are working outside to help you."
Roofer (initial R and final R) – "My dad is a roofer. He is really important to our community because if a building's roof has a hole in it, the water could ruin all the computers and stuff. But his job is so dangerous. He has to be careful because what if he falls off the roof? That could be bad."
Now it's YOUR turn!
Do you think your artic students can come up with different occupations that have the /R/ sound in it? Do you think they can appropriately organize their thoughts to inform you as to how those jobs might be dangerous? I bet they can! Encourage them to find some pictures online of some of the occupations they think of. Putting a visual to the responses can really help generate some great conversation. Give this speech therapy idea a try and let me know how it goes.
Oh, and do you think it is dangerous being a speech-language pathologist? I do! I got bit a few days ago after doing an oral mech exam. OUCH! LOL!
Our Featured Guest Blogger: Erik X. Raj
Please support our contributors and visit Erik's blog Artic Brain
Erik's Book, "One Seashell, Two Seashell, Flap, Flap, Flap" is now available for order!
Erik X. Raj is an innovative speech-language pathologist who has provided direct patient care to pediatric, adolescent, and adult clients who exhibit a broad spectrum of communication difficulties. He currently works for the Hamilton Township School District in New Jersey where he administers diagnostics and provides therapy to school-aged students with speech, language, voice, and fluency disorders.
In addition, Erik is the author of the award-winning children's book, "One Seashell, Two Seashell, Flap, Flap, Flap," and the founder of ArticBrain, LLC, a speech therapy product development company. With all of his original creations, it is Erik's mission to provide each youngster with a positive experience that inspires a passion for learning and helps to build competence, confidence, and courage to pursue his or her dreams.
PediaStaff hires pediatric and school-based professionals nationwide for contract assignments of 2 to 12 months. We also help clinics, hospitals, schools, and home health agencies to find and hire these professionals directly. We work with Speech-Language Pathologists, Occupational and Physical Therapists, School Psychologists, and others in pediatric therapy and education.