Guest Blog: Top 5 Ninja Characteristics All Speech Pathologists Have
By: Erik X. Raj, CCC-SLP
Copyright 2011. Reprinted with the express permission of the author as it appeared on his blog Artic Brain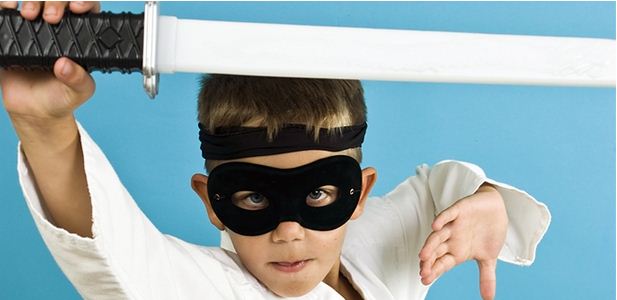 When most people hear the word "ninja," images of Power Rangers, mutant turtles, or extremely fast people wearing full black body suits and masks usually come to mind. But guess what? When I hear someone speaking about a person skilled in ninjutsu (the Japanese martial art characterized by stealthy movement and camouflage), the first thing that comes to MY mind is a speech-language pathologist! Here are the top 5 ninja characteristics that all SLPs have.
5. Speed
We understand that our time is limited so we jump right into all of our therapy sessions. We are quick and we never waste a single moment. A speech therapist is able to inject his/her client with weeks worth of valuable information in a single 30 minute block. All of this helps to ensure that our students are becoming black belt communicators!
4. Strength
I have always heard that the tongue is one of the strongest muscles in the body. With that being said, SLPs are the ones in charge of taming the tongue so that its owner is able to pronounce the target sound appropriately. So in theory, we are voluntarily wrestling the strongest muscle in the body on a daily basis and we never get hurt. Talk about being tough! Hi ya!
3. Stamina
Students today are so used to immediate gratification, that they struggle with waiting for anything. Sometimes our clients do not make progress right away but we never give up on them or the therapy. We always let our clients and their parents know that we are in this for as long as it takes. Speech therapists, just like ninjas, are patient, calm, understanding, and devoted to their cause.
2. Techniques
It is true, ninjas have swords and throwing stars but they don't NEED them to be effective. Same with SLPs, we have tons of therapy materials but we don't NEED them to provide awesome therapy. We are adaptable to any situation and we are armed with an infinite amount of approaches to teaching.
1. Intelligence
Ninjas are trained to master a large amount of different weapons and practice their craft in every possible situation (in the rain, in dark, in a tree, etc). Variety builds smarts! We are trained to assess, diagnose, treat, and help to prevent disorders related to speech, language, cognitive-communication, voice, swallowing, and fluency. In a single day, we could work with a wide age range of students from preschoolers to high schoolers and beyond. Not just any brain could provide services to such a diverse population. It requires attention to detail and intense concentration.
So as you can see, a ninja does not necessarily have to be someone who wears black, drops down from the ceiling, and slices everything in the room to pieces! The term "ninja" can also be very applicable to a speech-language pathologist. So the next time a new friend asks you the question of "What do you do for a living?" you can tell proudly them "I am a speech ninja!"
Do you agree/disagree? Did I miss anything? I would love to hear from you. Drop me a line and I look forward to hearing from you. (Oh, and if you could share this post with your friends, that would be swell!)
Our Featured Guest Blogger: Erik X. Raj
Please support our contributors and visit Erik's blog Artic Brain
Erik's Book, "One Seashell, Two Seashell, Flap, Flap, Flap" is now available for order!
Erik X. Raj is an innovative speech-language pathologist who has provided direct patient care to pediatric, adolescent, and adult clients who exhibit a broad spectrum of communication difficulties. He currently works for the Hamilton Township School District in New Jersey where he administers diagnostics and provides therapy to school-aged students with speech, language, voice, and fluency disorders.
In addition, Erik is the author of the award-winning children's book, "One Seashell, Two Seashell, Flap, Flap, Flap," and the founder of ArticBrain, LLC, a speech therapy product development company. With all of his original creations, it is Erik's mission to provide each youngster with a positive experience that inspires a passion for learning and helps to build competence, confidence, and courage to pursue his or her dreams.
PediaStaff hires pediatric and school-based professionals nationwide for contract assignments of 2 to 12 months. We also help clinics, hospitals, schools, and home health agencies to find and hire these professionals directly. We work with Speech-Language Pathologists, Occupational and Physical Therapists, School Psychologists, and others in pediatric therapy and education.