Laugh, Move, and Ask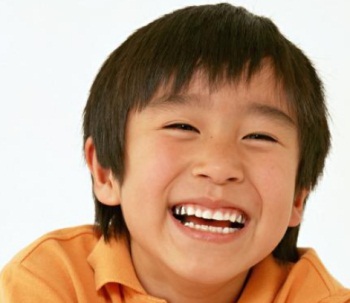 by Jill Perry, MHA, MS, OTR/L
B is one of the most lovable 6 year olds I know.  Let me describe him.  B can't sit in his seat more than 2 minutes without falling out of his chair or swinging his head and body back and forth for vestibular stimulation.  When called to sit on the floor, he is soon found positioned in such a way that the top of his head is pressed against the floor while he gazes at me with his beautiful, blue eyes…upside down.  As the kids line up to get ready for the gym, B paces in a circle looking at the pattern on the rug.
What makes B so lovable?  His middle name could be "earnest".  B desperately wants to do the right thing, but his body simply won't cooperate. He can answer any question we ask, proving that he processed every word.  There is anxiety evident in my little friend.   He knows he will be called on 20+ times a day to sit in his seat, pay attention, look at the teacher, stop moving his body; all the time aware of the fact that he just can't do it.   He WANTS to do what is asked but his body won't allow it.  So, B cries easily, responds defensively, and often states, "I know, I KNOW!" when corrected.  Sadly, at this point in time all the sensory diets in the world are not helping.  B needs intensive occupational therapy to address an underlying sensory processing disorder (which he will be receiving soon).  However, B also needs to be in school, needs to learn, needs to not disrupt his peers and teachers.  This is a real dilemma for everyone.  So here are 3 bits of help I have found in our group:
Humor works.  When he is treated respectfully, with humor, B's anxiety decreases and he can adjust briefly.  For example, "B, why are your eyes where your mouth should be?" when he is lying down on the rug rather than sitting.
Movement helps.  Given the opportunity to move as needed, calms B's nervous system and doesn't interfere with his learning though we adults cannot understand HOW.  We certainly couldn't process while moving like that!  But B can and does.
Ask the question.  When we ask, "What will help your body stay in the seat?" B actually comes up with some reasonable suggestions!  He feels respected and understood.  He appreciates that we are on his side and he is more invested in making the accommodation work.
Unfortunately, I feel the need to mentioned what doesn't work.  Punitive correction does not help.  Remember, B KNOWS what he did "wrong".  He just can't do anything about it in the moment.  Finally, I must add that I am not advocating free reign without consequences for actions that clearly disrupt, offend, hurt, or destroy property.  Like all children and adults, B must learn to be held accountable for his actions.  But doing so from a position of understanding and respect makes all the difference in the world!
Featured Author/Website: Jill Perry  MHA, M.S. OTR/L of All 4 My Child
Jill Perry, MHA, M.S., OTR/L is the Director of Occupational Therapy Services . She is an occupational therapist and general partner at CTA with over 25 years of experience working with children. Her clinical interests include working with children who have non-verbal learning disabilities, autism spectrum disorders, and sensory processing disorders. Jill is an Associate Practitioner for Integrated Listening Systems®, (iLs), a Tomatis based auditory program with specific visual and vestibular stimulation. She is also a provider of The Listening Program®, (TLP), a music listening therapy. In 2005 Jill earned her master's degree in health administration from Suffolk University. In addition to working as a clinical occupational therapist, Jill enjoys working with families as the OT intake coordinator at CTA.
Please support our contributors and Visit All4MyChild.com
PediaStaff hires pediatric and school-based professionals nationwide for contract assignments of 2 to 12 months. We also help clinics, hospitals, schools, and home health agencies to find and hire these professionals directly. We work with Speech-Language Pathologists, Occupational and Physical Therapists, School Psychologists, and others in pediatric therapy and education.