OT Corner: Making Use of the Junk Drawer
by Stacy Menz, DPT, DPT, Board Certified Pediatric Clinical Specialist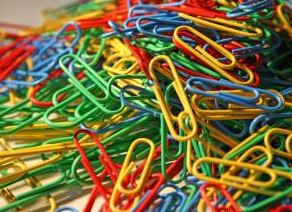 Wait don't throw that away! Our junk drawers can hold some quick and easy fine motor and visual activities for our kids. Let's get creative with what we unknowingly have in our possession already. Here are some great ideas and activities to do with 3 things that may be in a junk drawer:

Rubber band:
Place the rubber band on the index finger and thumb and have them open their fingers against the resistance of the rubber band. They can also put the band on their thumb, index and middle finger to work on strengthening the tripod grasp as well.
Stretch the rubber bands over blocks and paint the bands for a fun stamp.
Stretch the rubber bands around a small white board and hang the board up or leave flat on the table in front of child. They can place anything under the bands to make their own picture. Animals, crayons, or any small item that's available. Picking up the bands works on pincer grasp and they have to use two hands to both hold the band and place the item under. Hanging the board up would also work on reaching with bilateral hand use.
Paperclips:
Make a chain of paperclips or undo a chain of clips. This works on motor planning, bilateral hand use and finger dexterity skills. You can pretend its fun jewelry after putting it together as well.
Hang a paperclip from a string and add a balloon to the paperclip. You can adjust the height to play different visual and gross motor games with this. Up high you can try hitting the balloon with your hand. Or use a bat or stick to make it trickier for those that have more visual difficulties. You can also have the kids jump and try and hit the bottom of the balloon with their heads. Bringing the balloon low they can work on kicking. They also can lay on their stomachs or backs and try and hit the balloon with their hands or feet together to work on flexion and extension strengthening.
Washers:
Sorting games: you can sort the different kinds (rubber, metal), as well as the different sizes. Painting them different colors, can give them another way to sort them as well.
Place the washers in different spots and make a game out of collecting the washers. Give them an unsharpened pencil to walk with in one hand and they have to go around and collect the washers to place on the pencil. Increase the difficulty by having them collect in a certain pattern. This is great for eye-hand coordination, bilateral hand use and visual tracking skills.
Play a toss game. Taking a paper cup and placing it a small distance from your child you can play a tossing game in standing, sitting, on their belly, etc.
Next time you empty out that junk drawer, get creative and explore the different uses of everyday items that are found in your home. Your kids will love it!

Featured Guest Columnist: Stacy Menz, DPT, Board Certified Pediatric Clinical Specialist
Stacy, Starfish Therapies' founder, is a pediatric physical therapist with both a Masters and a Doctorate in Physical Therapy from Boston University and is a board certified pediatric clinical specialist. She stumbled into this field when she realized she would get to play with kids all day long! In reality, she loves making a difference in the lives of kids and their families. In addition to doing rehabilitative work with kids, she also promotes overall wellness and prevention of developmental delays through education. Stacy is actively involved in her professional organizations and is on the editorial board of Impact, the publication of the Private Practice Section of the APTA, and serves on the education committee of the Pediatric Special Interest Group for the California Physical Therapy Association. Stacy and her colleagues are also actively involved in research and have an article submitted for publication.
Please support our contributing authors and visit Starfish Therapies
PediaStaff hires pediatric and school-based professionals nationwide for contract assignments of 2 to 12 months. We also help clinics, hospitals, schools, and home health agencies to find and hire these professionals directly. We work with Speech-Language Pathologists, Occupational and Physical Therapists, School Psychologists, and others in pediatric therapy and education.