SLP Corner: The Other Side of the Coin: Can Apps Substitute Speech Therapy Services?
by Barbara Fernandes, CCC-SLP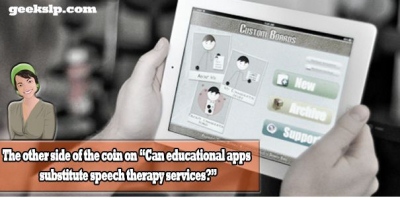 Article Reprinted with Permission as appeared on GeekSLP.com
I am now on my way back home from four very busy days in St. John's, Newfoundland – Canada! I was invited to attend the CASLPA conference and present a seminar for 3 hours. I have to confess that it is both a bit intimidating and exciting to present in a different country about a topic that while it may seem at first glance that the approach to apps is universal, it turned out to open up my perspective of viewing apps for education by how each countries' individual social reality and circumstance affects it.
Last week I was very intrigued by a video on YouTube called "Best practices for iPad Therapy" and watched it right before one of my presentations. The USA based speech-language pathologist on the video is also an app developer, and like I have done several times, she talks about the importance of using the apps as a tool to teach a skill rather than as a replacement for therapy. For the last three years I have been strongly advocating for this state-of-mind.
The video was very intriguing as she brings up the temptation that some parents in the U.S.A may face to skip therapy or to not seek speech therapy services now that they have found an app that helps the child learn X, Y or Z skill. After all, this is essentially what they have been hearing on the media: "the iPad is a miracle device for children with special needs." While it has always been obvious to me that apps are to be used as a tool by professionals, or by parents under the guidance of a speech-language pathologist, I had never even considered that some parents might be using it as a replacement for therapy.
On my presentations I always tell SLPs "The apps are NOT meant to replace you", you are there to "identify the best way to implement the app guided by best practices, and this is what makes you a professional". While I mentioned this in my presentation at the National Canadian Conference for Speech Therapists (total attendees approximately 600 SLPs), one of the therapists brought me back to reality: "What if the parent has NO access to any SLP services due to being in a remote area?". Oh boy! Did that bring back memories from my home country: Brazil.
I guess after living in the United States for eight years, I have also taken for granted the fact that we even have SLPs in school districts. Eight years ago, I was in Brazil calling parents to come for therapy that have been waiting for an evaluation for 3 years! Yes, you heard it right. Now envision that many times when a parent first starts noticing that something is not quite right, the child is about 2 to 3 years old, maybe the parents wait a few months to "give him some time", by the time they realize their child needs help and tries to schedule service it may take up to 3 years before they actually see a professional.
In my home city in Brazil (the third largest city in the country) speech therapy services are not part of any school services. Private therapies that are covered by some insurance carriers, services in the hospital, or special education institutions are some of the few options available. This is typical for the metropolitan areas in Brazil, which got me thinking… what about the more rural areas????? You get the picture: parents notice that their child needs help, they want to do something about it, but they don't have the professional available. Now what? Do nothing? Wait?
This got me thinking about speech therapy around the world and given the statistics that around the world more people own a smart phone than computers, could these parents who do not have access to professional be using the apps, which have made educational materials mainstream, to help their child learn?
I have traveled a LOT around the word, been to Africa, Europe, Asia, South, Central and North America; I have over 40 countries under my belt and have seen a lot of service delivery models around the world. I have been to many countries not necessarily as a tourist, but as a professional to observe therapy sessions and learn more about speech therapy, and it amazes me how I have been able to forget and become so distant from the reality outside of the US.
Please, do not think I am not also aware that there are remote areas in the US where children do not have the necessary services, I am well aware of that, hence the explosion of telepractice services for SLPs. Telepractice services in of itself is a concept that few of my good colleagues in certain other countries even know exists. While I was very fortunate to go to college in Brazil, a country that graduates some of the best quality SLPs I have ever met in my career, I also graduated from a country that SLPs have to create their own articulation and picture exchange materials one by one from photographs in a magazine (I DID THIS). At the same time, smart phones have grown increasingly popular and common. Could the combination of these factors: lack of professional services, lack of paper products, high number of smart phones, and affordable educational apps be a reasonable solution for the time being?
Of course, there is yet another side of the issue: most educational apps are in English only. Which is yet another barrier that many non-English speaking countries face. The upside to this is that these educational apps are indeed much more affordable than traditional equivalent materials, which makes them a step closer to those who for sure would never be able to afford any form of non-paper AAC system, or cannot get their insurance to cover any or few sessions.
After thinking very hard on this subject, I am still not sure if it is possible to take a stand on this very controversial subject which can be so far from my current reality, as this is a very theoretical discussion that may not bring any real solutions to those who need it, which is why I feel strongly motivated to do from this day forward. This is not as much simply a professional issue as it is a social issue, it requires more than only SLP knowledge and discussions, but I hope one day we can have a positive outlook and can feel we are all moving in the right direction.
Thanks for bringing me back to reality outside of my own very small SLP circle.
Please be sure to also read the comments and reactions about this post, and to post your reaction as an SLP or parent living this reality.
About the Author:  Barbara Fernandes
Barbara, the founder and director of Smarty Ears received her master degree in Speech and Language Pathology with an emphasis in bilingualism from Texas Christian University. Barbara speaks three lan- guages (English, Spanish & Portuguese), and she has worked with children from a variety of ethnic back- grounds and native languages in several countries. In addition to her passion for working with bilingual children, Barbara's passion for technology has led her to become an active blogger known as "GeekSLP" for www.geekslp.com and the blog of the American Speech and Language Association known as the AshaSphere. As GeekSLP, Barbara has been invited as a guest speaker in universities and International conferences, and given workshops and presentations around the world on how technology can be im- plemented to improve the speech and language skills.

PediaStaff hires pediatric and school-based professionals nationwide for contract assignments of 2 to 12 months. We also help clinics, hospitals, schools, and home health agencies to find and hire these professionals directly. We work with Speech-Language Pathologists, Occupational and Physical Therapists, School Psychologists, and others in pediatric therapy and education.