SLP Corner: This is a Reminder that Speech Therapy is in Your DNA
by Erik X. Raj – MS, CCC-SLP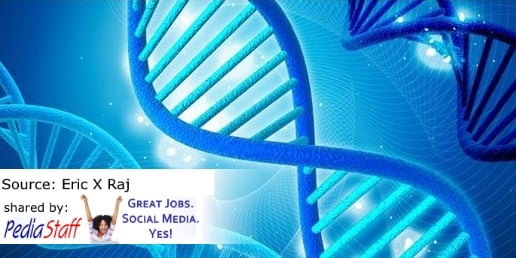 Some school-based speech-language pathologists work in school districts that have a large amount of money allocated to speech therapy materials. These are the districts that give each clinician a yearly spending budget in order to purchase new materials. I'd imagine that this budget, no matter how big or small, often invokes a feeling comparable to winning the lottery. "OMG, I just won $100 speech therapy dollars from this speech therapy slot machine! Sweet! I can't wait to buy some new materials that I know all my kiddos will adore!"
And then there are those school districts that don't have spending budgets.
These are the districts that don't have extra funds to distribute to their clinicians. SLPswho work in these types of environments are forced to spend a large amount of their own personal finances in order to have a speech therapy room that's filled with materials that are both fun and functional.
Which type of school district are you a part of?
Sadly, my colleagues and I have noticed that more and more school districts are shrinking their budgets (or even eliminating them). It isn't too uncommon to hear administrators say, "There just isn't enough money right now." So, it wouldn't be to crazy to think that a majority of clinicians are currently in the situation where they believe that some of their speech therapy materials are lacking or outdated. They wish they had the hot, new tech thing everyone is talking about. They wish they had an iPad filled with all of those cool apps everyone keeps talking about. So on and so forth.
If you're in that boat, don't worry.
If you find yourself frustrated because you don't have that sizable and impressive budget like the other SLPs have a few towns over from you, don't let it get you down. I wanted to write this post specifically to you to remind you that you don't need that fancy budget or those fancy materials because you're an awesome SLP. You really are.
And awesome SLPs are magical, with or without that stuff.
LeBron James is arguably one of the best basketball players and even if he wore basketball sneakers covered with holes, he would still rock because basketball is in his DNA. Miles Davis was arguably one of the best jazz musicians and even if he played a beat up trumpet with cracks all over it, we would still rock because jazz was in his DNA. And you, you're arguably one of the best SLPs out there and even if you don't have the newest materials or an iPad or whatever, you still rock because those things DON'T make you awesome, your brain does.
Being an SLP is in your DNA!
Speech therapy is your jam. You get speech therapy. Sure, all those bright and flashy materials are nice to have, but they are never a necessity. What is a necessity is you. You and your knowledge. You and your thought processes. You and your ability to solve complex problems that relate to communication. You and your ability to build rapport with your students, their parents, and their classroom teachers. You and your natural way of motivating each youngster on your caseload that they are destined for big things. You. You and your brain. You and your DNA.
In closing . . .
I love flashy speech therapy materials and iPads just as much as the next person, but let me go on record as saying that none of that stuff can hold a candle to you. It's never about the vehicle. It's always about the driver. You're a magical SLP and your school district just wouldn't be the same without you. Thank you for all that you do. The next time I see you, coffee is on me. 😉
Featured Contributor: Erik X. Raj, M.S., CCC-SLP
Erik X. Raj, M.S., CCC-SLP is a practicing speech-language pathologist and app developer living in Detroit, Michigan.   Originally from Jackson, New Jersey, he received his B.S. from Richard Stockton College of New Jersey and was awarded a M.S. from Misericrodia University.
You can learn about Erik's apps for speech-language therapy and read his blog on erikxraj.com
PediaStaff hires pediatric and school-based professionals nationwide for contract assignments of 2 to 12 months. We also help clinics, hospitals, schools, and home health agencies to find and hire these professionals directly. We work with Speech-Language Pathologists, Occupational and Physical Therapists, School Psychologists, and others in pediatric therapy and education.