Spring Articulation Ideas!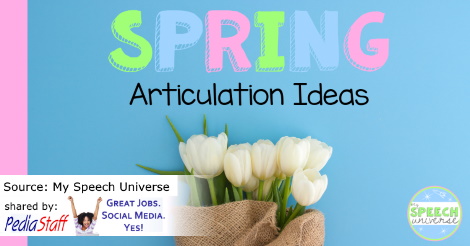 [Source:  Speech Universe]
Spring is here!!!!  I don't know what it is about this winter, but I have never been more ready for spring before.  I can't wait for warmer temperatures, the smell of rain and flowers, and some warm sun on my face.  I also can't wait to use all of the cute ideas I have been starting to collect with my preschool articulation/phonological students!
Want to be close to Vancouver without the crazy commute? PediaStaff has a need for a full-time Speech-Language Pathologist north of Vancouver in the Longview area for the 2021-2022 school year, and we are ready to start interviewing now! This is a…...
LEARN MORE
Alaska is calling!  A school system in Fairbanks, AK seeks a Speech-Language Pathologist with school or pediatric experience to join us for the 2021-2022 school year. * New Grad SLP-CFs will be considered * The caseload consists of  schools in and around Fairbanks with a…...
LEARN MORE