Digging For Dinosaur Fossils Sensory Bin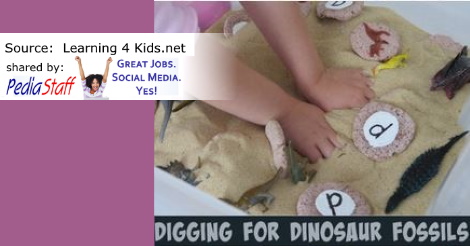 [Source:  Learning 4 Kids.net]
Digging For Dinosaur Fossils Sensory Bin: I previously shared an activity here on How to make Dinosaur Fossils? This is how we played with them!
We simply painted white circles onto the back of the dinosaur fossils and with a black permanent marker pen drew on uppercase and lowercase letter d.
The idea of the of the Digging for Dinosaur Fossils Sensory Bin is to search through the sand to find and sort the dinosaur figurines, dinosaur fossils with lowercase letter d and uppercase letter D into the matching baskets. It is a great opportunity to expose children to the letter D, and talk about words that begin with this letter sound.
The activity also became a bit like a puzzle, where Miss 4 was matching the dinosaurs figurines to the imprints in the fossils.
Learn More About this Idea and Find More Related Activities on Learning 4 Kids.net
School-based SLP assignment is available near Medford! We are seeking a speech-language pathologist to start the 2020/21 school year at a public charter school in the Medford area. * SLP will work with elementary students at one site in a public charter…...
LEARN MORE
Full-Time and Part-Time positions available for a pediatric Occupational Therapist with a thriving pediatric home health care company in Austin, TX. Occupational Therapist needed in the vicinity of South Austin. Must be bilingual in Spanish. * Patient visits are usually performed in…...
LEARN MORE
Do you love working with children 3-5-year-olds? We are seeking a Speech-language pathologist to work with 3-5-year-olds in their natural environments in Salem, Oregon area for the upcoming 2021 -22 SY.    * Full-Time Speech-language pathologist 3-5-year-olds program * SLP assignment is August 27,…...
LEARN MORE
Are you an adventure seeker? Looking for an opportunity in one of the most beautiful cities in Washington? PediaStaff has opportunities for Speech-Language Pathologists in the beautiful Yakima area for the 2021-2022 school year, and they can interview now! If you kayak,…...
LEARN MORE
Contract opening for three months on the east side of Houston working with an Early Childhood population.   The ideal occupational therapist candidate will have some experience be it via clinical rotation or actual employment experience.  New grads will be considered provided they…...
LEARN MORE