Hot, New Job! Pediatric Physical Therapist – Valley Springs, CA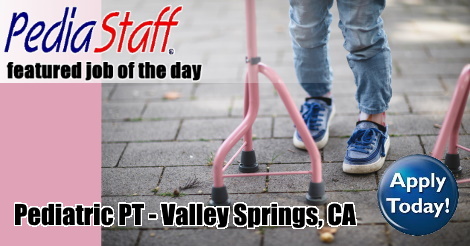 Call Today at 866-733-4278 or text us at 662-524-9099 or Apply HERE!! 
We are seeking a full-time Pediatric Physical Therapist to provide in-home and clinic pediatric physical therapy services in Amador, Tuolumne, OR Calaveras Counties.
* Full time pediatric physical therapist position
* PT will serve the pediatric population birth to 21 with delays and medical diagnosis
* Company car, computer and cell phone available
* Mentorship and supervision available for new grads
* Salary at $90, 000 and negotiate up for a well-qualified candidate
Benefits include:
Company car, two weeks' vacation and some federal holidays, health benefit after waiting period, sick time, workers compensation, paid family leave, company devices ( computer and phone), paid continuing education, we often give end of year bonuses.
Pediatrics is our Specialty! Apply now and our California-Based Recruiter will contact you.
Qualifications: Must hold a Bachelor's Degree (or higher) in Physical Therapy and a current state license (or be eligible for same).
…IT'S ALL ABOUT THE CHOICES!
Call Today at 866-733-4278 or text us at 662-524-9099 or Apply HERE!! 
Full-Time and Part-Time positions available for a pediatric Physical Therapist with a thriving pediatric home health care company in South Austin and surrounding areas. Job Duties for the Physical Therapist role include: * Patient visits are usually performed in private homes *…...
LEARN MORE
Awesome opportunity for an experience pediatric Physical Therapist with a passion for working in an outpatient setting! * Seeking a part or full time therapist interested in a position as an independent contractor with an excellent wage * Top of the line…...
LEARN MORE