OT Corner: A Basket Full of Butterfly Activities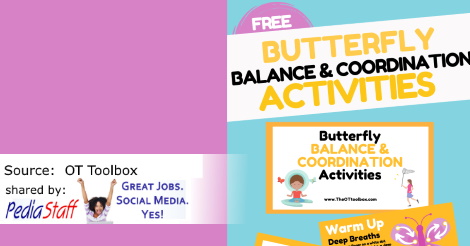 [Source:  The OT Toolbox]
This week's occupational therapy theme is all about the butterfly activities. And, these butterfly exercises help with coordination, motor panning, coordination, and add heavy work input. You'll love the butterfly yoga activities that are fun, motivating, and engaging! Add these butterfly gross motor exercises to your Spring occupational therapy activities.
In this free slide deck, you'll love the heavy work and gross motor coordination activities with a butterfly theme.
Learn More and Download this Freebie from OT Toolbox
Full-Time and Part-Time positions available for a pediatric Occupational Therapist with a thriving pediatric home health care company in Austin, TX. Occupational Therapist needed in the vicinity of South Austin. Must be bilingual in Spanish. * Patient visits are usually performed in…...
LEARN MORE
Contract opening for three months on the east side of Houston working with an Early Childhood population.   The ideal occupational therapist candidate will have some experience be it via clinical rotation or actual employment experience.  New grads will be considered provided they…...
LEARN MORE
Fabulous opportunity for an Occupational Therapist in a private pediatric outpatient clinic located in the vicinity of Paris, Texas?  Be part of this multi-disciplinary clinic where they take a team approach with therapy.  The Occupational Therapist will treat kiddos between 0-20 years of age. …...
LEARN MORE