Sensory Corner: Your Sensory Sensitive Kiddos Go Back to School!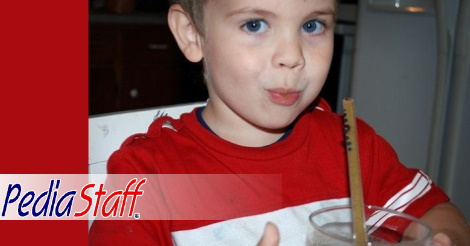 By: Jackie Linder Olson
Editor's Note: This article is directed at parents, but would a a great resource to share with the caregivers for your sensory sensitive kiddos!
It is time to go back to school, which can be both exciting and stressful. If your child is hyper-sensitive they may have social anxiety as well that can be debilitating. For those hypo-sensitive children sitting in school and being quiet can be torture for their active minds and bodies. Here are a few tips to help make your sensory sensitive child's day smoother and just maybe they'll become teacher's pet.
Before School
Try to have your child's clothes ready the night before and ready for them to put on. Hopefully they've gotten a solid amount of sleep and have woken up on the right side of the bed. After their nutritious and delicious breakfast, set aside those last minutes before leaving home for calming activities such as jumping on the mini trampoline or give them a few deep pressure squeezes to their shoulders. Drinking thick liquid through a straw will also help them calm themselves and regulate their bodies.
Drop off and pick up
Have a plan. If your child needs time to play on the playground and get more of their energy out, then drop them off early (make sure there is a school representative on yard duty). If your child gets anxiety before school, then leaving them early is going to stress them out more. For these children, it's best to drop them off right as school is going to start or right before the bell rings. They can waltz directly into the classroom and start their day rather than stress in line or on the playground which can be hectic and discombobulating.
After school is normally pure chaos. The bell rings and hundreds of kids rush out of the classroom with a burst of freedom. For the hypo-sensitive kids this is a joyful time of bumping into each other as the cattle drive moves towards the front of school to awaiting buses and parents' minivans. This time can be torture for the hyper-sensitive kids. They may become confused and not know where to go if you haven't arranged a meeting spot. After school can be a nightmare. Pick a designated area by a tree or in the front office. For those kiddos that become paralyzed and overwhelmed, see if they can stay in their classroom with the teacher until you arrive (but be on time as teachers are not babysitters!).
Clothing
While little Johnny or Suzie may want to wear nothing but their sweat pants and worn out Justin Bieber t-shirt, you're going to have to find clothing that is both comfortable and socially acceptable. I'm not saying you have to dress your child in the latest trends and spend a fortune on a Paris Hilton-type wardrobe, but you don't want your child to stand out or targeted for wearing sloppy clothes. There are great deals at Target and Kohl's has a fashionable Tony Hawk brand that is universal. If your child is eccentric and wants to express themselves through clothes, then great, but make sure they have the sensory system and social system to support their style.
If your child needs some help regulating their system, perhaps you should try a "sens-ational tee" from Fun and Function. This stretchy fabric hugs your child and gives them the support they need to calm themselves. Another option is a weighted vest, but these cannot be worn all day and you'd need a teacher or an aide to regulate when and how often your child has it on.
Lunchtime/Recess
Lunch time is a big deal at school. If your child is socially awkward or has social anxiety, look into a lunch buddy program for your child to have a small group to eat lunch with. Some schools offer classes during lunch or a reading group or chess club. Often if the child has an activity, then the stress is relieved and they can eat peacefully. When there is no lunch buddy program available, make sure your child has something to do during lunch after eating. Perhaps send them to school with a game, sports equipment, or an art project to occupy them and hopefully engage with another child. Please don't bring anything that will be detrimental if lost or stolen.
For those hypo-sensitive kids, make sure they can finish their lunch with lots of time to get their energy out on the playground. They may be known to play rough, so set boundaries and make sure they follow the rules. These kids may need some direction as well, so having a lunch playground plan can be helpful. The more gross motor activity they get during this break, the better they'll be able to focus during class.
Bathrooms
Going to the restroom at school can be an ordeal. The body makes sounds and smells that can be embarrassing. While everyone has bodily functions, kids with sensory issues may not be able to tolerate a public restroom. Some kids will hold it all day, waiting to eliminate in the comfort of their own home. Others will wait till class is in session and ask to go to the restroom during class, knowing they'll have more privacy. If your child is having anxiety about the restroom, talk to their teacher about when the best time for them to go would be. Holding it all day can be painful and disruptive to them being able to complete tasks. And then there are those dreaded accidents. If your child is prone to accidents, always have some extra clothes for them at the front office or with their teacher.
Also, make sure your children can dress and undress for these bathroom trips. If your son can't unbutton his jeans or unzip his jacket, he's not going to be able to have a successful bathroom experience.
IEPs and 504 PLANS
Social skills are an important part of school and should be included in your child's IEP or 504 plan. If they cannot learn to connect and work with other children then they're not going to have a successful school experience. Also, your child's sensory comfort allows them to be able to learn, keep up with the class curriculum, and to excel. Don't be afraid to ask for what your child needs and do the homework to find out how to word what your child needs so that the school will accept the verbiage. Sometimes it can be best to ask for more than what your child needs so that you settle on what you really want for your child. There is definitely strategy involved in maneuvering through your child's school career. I have found that most schools will work with the parents that are reasonable. Be sure to point out the sensory needs listed that will not cost them any money (which is always a bonus).
That said, you need to have realistic expectations of your child's school and teacher. They only have so many resources to go around. A stressed out teacher is only going to add to your child's anxiety, so don't over burden them with a sensory diet plan that would be impossible to carry out. Prioritize your list so that the teacher knows what is crucial for your child to be able to get through the day and then what you would like if she/he is able.
Something Special
Last, but certainly not least important, to help my child's school anxiety, each year I let him pick out something special. It usually ends up being new pens or scented markers. While unnecessary for school, it's vital for his confidence and self regulation. It's amazing how happy a hamburger shaped eraser can make your child. Spend the extra dollar and put it in the front of their backpack for those times when they're having a hard time at school.
One thing my child's psychologist suggested to me that worked for us was to put "rocks of love" in his backpack. I let my son pick out little, colorful gemstones that he thought were magical and we put them in a small pouch. I told him that every night I would kiss the rocks and put my love on them to surround him with a force field throughout the day. It sounds like a bit much, but it really helped. Sometimes throughout the year he would ask me, "Did you kiss my rocks last night?" Be open to anything that may make your child feel more secure in the classroom. If you try the rocks, make the rocks small as you don't want to weigh them down.
Featured Author: Jackie Linder Olson
Jackie combined her career as a filmmaker and her passion for helping children with special needs by creating Occupational Therapy dvds for parents and teachers, winning an Outstanding Product Award from iParenting. Jackie co-wrote Sensory Parenting: Newborns to Toddlers with Britt Collins, M.S., OTR/L, the first book in their series for Sensory World. She also co-founded non-profit organization, Special Needs United, in order to provide Occupational Therapy and OT equipment for families in need. All of the above have been born out of her love for her son with sensory processing issues and an autism diagnosis.
PediaStaff hires pediatric and school-based professionals nationwide for contract assignments of 2 to 12 months. We also help clinics, hospitals, schools, and home health agencies to find and hire these professionals directly. We work with Speech-Language Pathologists, Occupational and Physical Therapists, School Psychologists, and others in pediatric therapy and education.