Book Review: Early Intervention Games – by Barbara Sher
Review Written for PediaStaff by Barbara H. Boucher, OT, PhD, PT.
Read an excerpt of this book HERE
Other reviews of this book are available on Amazon.com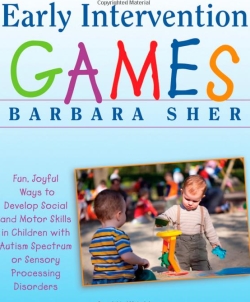 I really like pool play for children and this book offers 28 games to be played in the water. Instructions for each game comes with: Goals, Materials, Setup, Directions, Variations, What Is Being Learned and (my favorite) Modifications. Including water games and modifications to each of the more than 200 pages of games are unique and valuable features of this book. For some reason there are very few drawings in the water games section whereas there is a drawing accompanying most of the other games.
The artwork is good for adding a visual dimension to the words and the book is well-written. The other game sections are Social Gross Motor Games and Social Fine Motor Games. Perusing the games sections I could only think that this book is nice resource. Despite the words 'early intervention' in the title, the games are intended for children preschool age and above. The (probably too) long subtitle for this book makes clear the author's specific intent for this book.
The intended audience is (probably too) broad: "we parents and therapists and friends who love these children" (p. xii). I think there is too much explanation of theory of sensory integration and sensory processing disorders for parents. I emphasize the word 'theory' and note that this book carries the philosophies of the past four decades forward yet into another generation despite lack of good science supporting explanations of the terms. The explanatory chapters are from primarily descriptive references – which is not enough reference for therapists and other professionals.
I've been seeing a little too much credit given to SPD for the behavior of children with 'sensory processing disorders' and/or autism online. Once a child is identified as having sensory issues, other (of many possible) plausible causes for meltdown behaviors tend to be ignored. I worry sometimes that the child might have an illness or be in need of a medication adjustment. Books like "Games" with unsubstantiated theory written as fact promote this kind of risk.
This late publication is the best reference I can give to show the problems with seeing children primarily through a sensory processing lens: Helping children with autism spectrum disorders and their families: Are we losing our occupation-centred focus?" in Australian Occupational Therapy Journal (2010) 57, 276–280.
(Acknowledgment to an Australian woman named Karen who blogs at Life Actually and left the above reference in comments on Dr. Christopher J. Alterio's post "Sensory integration: More evidence that OTs have lost control of the narrative")
"Games" met the not insignificant challenge of organizing a wide variety of activities for anyone with the resources and incentive to manage a small group of children. However, Barbara Sher might have tried to accomplish too much in this book. Phrasing expectations as "What Is Being Learned" seems to promise too much considering the lack of evidence for the effectiveness of 'games' for developing social and motor skills. I do suspect though, most children will experience fun while playing the games in this book.
This Month's Featured Book Reviewer: Barbara Boucher, PT, PhD, OT 
We thank Dr. Boucher for writing this book review.
Reviewer Barbara Boucher studied the effectiveness of programming according to the book "Movement Is Fun: A Preschool Movement Program" by Susan B. Young (1998; published by Sensory Integration International) for her doctoral dissertation.These two journal articles report her research results.
Influencing preschool children's motor development: A comparison of two groups. Boucher BH, Doescher SM. Early Child Develop Care 1991; 77:67-76
Preschool children's motor development and self-concept. Boucher BH, Doescher SM, Sugawara AI. Percep Mot Skills 1993; 76:11-17.
PediaStaff hires pediatric and school-based professionals nationwide for contract assignments of 2 to 12 months. We also help clinics, hospitals, schools, and home health agencies to find and hire these professionals directly. We work with Speech-Language Pathologists, Occupational and Physical Therapists, School Psychologists, and others in pediatric therapy and education.