Book Review: "Here's How to Treat Apraxia of Speech"
Review Written by Ronna Siegel Woloshin, CCC-SLP, Aptakisic-Tripp School District 102, Buffalo Grove, IL
Reprinted with permission of the author and publisher
Buy this Book or Read Other reviews on Amazon.com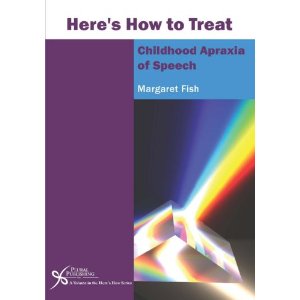 "Here's How to Treat Childhood Apraxia of Speech" by Margaret Fish is a comprehensive book written for students of speech-language pathology and for slps working with children with confirmed or suspected childhood apraxia of speech. It provides practical suggestions for evaluating children with CAS, and planning/implementing effective treatment programs for this challenging group of children.
This book is organized into three sections. The first section of the book provides in-depth and detailed information about the definition of CAS, and describes the characteristics that are commonly associated with this motor speech disorder. In addition, section one presents a protocol for conducting a thorough motor speech assessment as part of a comprehensive speech-language evaluation. The author outlines the step- by- step components of a comprehensive speech-language evaluation that includes the history, general observations, an oral-motor examination, and speech analysis. Section one also focuses on how to interpret evaluation findings and make treatment decisions in order to develop appropriate goals that address the specific needs of this population.
After laying the foundation for understanding and diagnosing CAS, the second part of this book deals with fundamental principles of treatment. The author discusses five principles of treatment that she developed for working with children with CAS. These treatment principles make up "P.R.I.S.M", which refers to: Phoneme Sequencing, Repetetive Practice, Intensity of Treatment, Selection of Target Utterances, and Multisensory Cues and Feedback. The author describes how this foundation for treatment impacts therapy decisions such as practice and treatment schedules, selection of treatment targets, feedback schedule, and cueing techniques. The author stresses the importance of flexibility when selecting which treatment methods to use, and how these decisions should relate to factors other than specific sound choice.
Finally, the third part of the book addresses a variety of factors that should be considered when working with CAS. These include strategies for working with minimally verbal children, children with social language problems, literacy delays, and autism spectrum disorders. Included among the wide range of intervention topics covered in this section, are specific suggestions for helping children achieve better vowel production, improve prosody, and establish early use of phrases and sentences. Reinforcement, feedback, and alternate communication systems are also discussed in this section.
This comprehensive book is very broad in scope, and extremely practical. The author provides very detailed, creative, and practical interventions, while incorporating evidence-based principles of treatment. Detailed sample activities and techniques, and treatment scripts are included, to provide both new and experienced slps with practical ways to integrate evidenced-based interventions into their treatment. The author bases these interventions on both published research and her 28 years of clinical experience with the pediatric population. Relevant case studies for a variety of age levels are included throughout the book to support the slp in developing a comprehensive and highly individualized treatment plan. The author provides extensive lists of activities, games, toys, songs, and books that can be incorporated into treatment, and that offer the child opportunities for repetitive practice. Detailed information on how to write a treatment plan or IEP for children with CAS is shared. Analysis of evaluation results, choosing target utterances for treatment sessions, and progress monitoring charts are among some of the forms that can be immediately put to use. The many visuals of techniques that the author has created and adapted for therapy will save time when planning. The extensive lists of materials and resources for integrating music and repetetive line books into therapy will be extremely valuable.
"Here's How to Treat Apraxia of Speech" will help slps of all skills levels and experience to gain the knowledge and skills necessary to work more efficiently and effectively with children who have apraxia. This impressive book will be an invaluable resource across a wide variety of therapeutic settings. It can serve as a textbook for students of speech-language pathology, a therapy manual for slps who are new to the field, and a resource manual for more experienced slps. Readers will gain a much better understanding of CAS, along with many new tools to guide their clinical thinking about every aspect of assessment and intervention. SLPs will come away with a better grasp of traditionally proven methods for intervention, in addition to many creative, practical, and innovative strategies that can immediately be implemented in therapy. The author has done a brilliant job of referencing the research that supports why these interventions are successful with the apraxic population. This book will enable slps to enhance their knowledge and skills, and gain confidence when evaluating and treating this complex speech disorder. This outstanding resource should be required reading for every speech-language pathology student and slp working with apraxic children. Every speech-language pathologist will want to add this valuable book to their collection of therapy resources.
PediaStaff hires pediatric and school-based professionals nationwide for contract assignments of 2 to 12 months. We also help clinics, hospitals, schools, and home health agencies to find and hire these professionals directly. We work with Speech-Language Pathologists, Occupational and Physical Therapists, School Psychologists, and others in pediatric therapy and education.