Product Review: 'Speech Buddies' – featured March 22, 2011
Product Review: 'Speech Buddies' by Articulate Technologies
Review Written and Conducted By: Dave Hammer, MA CCC-SLP, Children's Hospital of Pittsburgh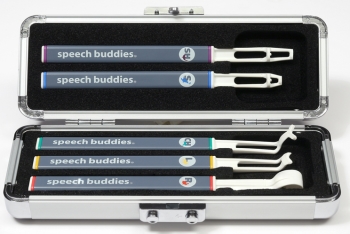 As a practicing speech-language pathologist for over 30 years, I have found that being an eclectic therapist who is flexible, open to new ideas, and able to adapt new products and materials to my therapy style have served me well. I also have found in working with many children over the years with a range of speech sound production disorders including childhood apraxia of speech, that you never have enough "tools" in your "toolbox" (pun intended with my last name being "Hammer"). Recently, along with my colleagues in an outpatient satellite of Children's Hospital of Pittsburgh, PA, I had the opportunity to try Speech Buddies, a new product from Articulate Technologies, Inc. out of San Francisco, California.
Over the course of several weeks, we evaluated Speech Buddies with several patients with moderate and severe speech sound disorders and several with childhood apraxia of speech. We discovered that these "Buddies" are a welcome addition to our therapy strategy toolbox.
First, let me state that I do not generally endorse products that are related to "oral exercises" which don't tend to correlate directly with speech motor skill development. There are many such products on the market in our field that propose to facilitate positive speech sound precision modifications in children. I am very wary of such products and therefore have never considered purchasing them throughout my career.
Speech Buddies take a different approach: teach correct tongue placement during actual speech for five sounds R, L, S, SH, and CH. I have adapted my own strategies to accomplish similar objectives and used such products as flavored tongue depressors and flexible tubing to help clients with articulatory placements. My colleagues and I discovered that children were more tolerant of the Speech Buddies than they were of tongue depressors, especially given their suspected adverse experiences with tongue depressors during medical examinations.
To begin with, children for whom we tested the product liked the name "Speech Buddies." Names are important to children and Articulate Technologies has found a product name that aids in children's comfort level by allowing therapists to try Speech Buddies without increased anxiety.
With specific reference to sound facilitation, we found several clients able to achieve quickly the correct tongue up/back movement for retroflex "r" with the Speech Buddy. They enjoyed the challenge of uncoiling the Speech Buddy's flexible coil with their tongue that resulted in the desired pattern of movement without thinking about producing an "r" sound at first. Once this movement pattern was established, the foundation for the "r" was readily in place for speech production. Unfortunately for a percentage of "r" distortion clients, what they lack is lateral tongue stability and lingual tension. The Speech Buddy provides one important component of the articulatory process and, for some children, would need to be coupled with other strategies and cues that assure lateral tongue stability and tension. It would be helpful in future generations of Speech Buddies if there was a way to better assure tongue widening and tightening while retroflexing (e.g. a wider Speech Buddy contact).
My colleagues (including those with many years of experience and lots of "tools" already in their "toolbox") found that specific clients found "immediate (success) within the first few minutes of using Speech Buddies." One particular child, age 5 with a moderate phonological disorder, struggled to get accurate placement for /l/ over a period of several months, including difficulty with tongue tip placement/elevation, jaw stabilization, and elimination of lip rounding. He had been stuck at the segmented syllable/word level for at least 2 months for /l/ initial and had done slightly better with /l/ medial. With use of the Speech Buddy he progressed to 80% accuracy for /l/ initial at word level (at first with use of speech buddy but then was able to achieve correct placement without the tool) and phrase level at 50% accuracy. This progress was achieved over the course of 6 sessions (3 weeks at 2x/week for 30 minute sessions).
A percentage of clients in our clinic working on the /l/ sound have childhood apraxia of speech and are extremely challenged by their neuromuscular or speech-motor systems and need to use a compensatory placement with a low-forward tongue placement to achieve an auditorally correct /l/ production. Although the Speech Buddy for one of these clients did not facilitate tongue tip elevation, it provided a non-aversive touch point to reduce exaggerated tongue protrusion. This led to a more rapid, less exaggerated "l" initial production. The Speech Buddy was faded (held in mouth when saying "ah" to /l/ word then held outside mouth as reminder when saying it without an internal Speech Buddy cue), with good results.
For a 6-year-old client working on persistent /s/ distortion, a severe residual articulation disorder, one colleague reported that the Speech Buddy "worked wonders!" The child had been working on /s/ for a few months and struggled with achieving forward airflow. One session with the Speech Buddy and she was able to get better tongue placement with airflow moving forward. During the follow-up session, the therapist was prepared to use the Speech Buddy again but instead the child wanted to try producing /s/ at the beginning of words herself. "She did a great job" as reported by my colleague, and the Speech Buddy usage was no longer required.
These are a few examples of the positive results found with the Speech Buddies during our trial period in an outpatient hospital facility. While not all clients responded with success or this rapid of a response, it points out that Speech Buddies can become a important product in your therapy strategy "toolbox". They are easily cleaned but would be even more completely sanitized if dishwasher safe. Enclosed instructions are simple to follow and helpful videos are provided on the Articulate Technologies website. We will continue to look forward to more experience with the Speech Buddies product as we add it to our own "toolbox" for helping children with speech sound production deficits.
This Month's Featured Contributor: David Hammer, MA CCC-SLP, Children's Hospital of Pittsburgh
Special Thanks to Dave Hammer for completing this excellent product review
Dave Hammer is the Coordinator of Speech and Language Services at the outpatient north satellite of Children's Hospital of Pittsburgh, Pennsylvania. He has over 30 years of pediatric clinical experience, with specialty interests in apraxia of speech in children, childhood and adolescent stuttering, and severe articulation/phonological disorders. Dave has been invited to present workshops on apraxia of speech throughout the United States, Canada, and Australia. He is a member of the CASANA (Childhood Apraxia of Speech Association of North America) Advisory Council. Dave was a member of the ASHA AdHoc committee on childhood apraxia of speech. He has been involved in the production of a number of apraxia-related DVD's and an innovative children's CD.
Dave is known for his practical and therapy-oriented approach to his presentations.
PediaStaff hires pediatric and school-based professionals nationwide for contract assignments of 2 to 12 months. We also help clinics, hospitals, schools, and home health agencies to find and hire these professionals directly. We work with Speech-Language Pathologists, Occupational and Physical Therapists, School Psychologists, and others in pediatric therapy and education.