OT Corner: Sensory Friendly Halloween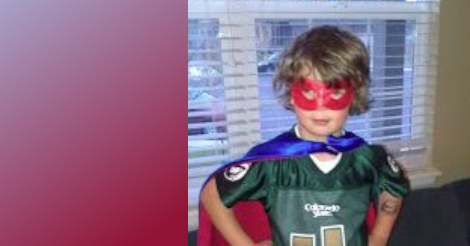 Editor's Note: This article is directed at parents, but would a a great resource to share with the caregivers for your sensory sensitive kiddos!

by Jackie Linder Olson and Britt Collins M.S., OTR

My son has always loved Halloween, which was unexpected since he's normally fearful and has had issues with anxiety for as long as I can remember.  Every year we carefully pick out a Halloween costume keeping all his sensory issues in mind.  It can't be too hot, it can't itch, it can't cover his face…and the list goes on.  We've been successful with him being 'Ron' from Harry Potter (2 years in a row), a magician, and most recently a lifeguard.
This Halloween, ditch the sweets and protect your kiddos sensory systems.   Below please find these tips on how to make your holiday more sensory friendly from candy to costumes to trick-or-treating!
1.  Why oh why does every holiday have to be about stuffing ourselves with sugar? 
It's always my pet peeve that each holiday includes treats that make my son bonkers.  He doesn't do well with too much sugar and food coloring and this holiday is all about the candy in our neighborhood.  And since I want my son to have a fun Halloween, I let him trick-or-treat till his heart is content.  BUT he knows he's not keeping all the candy.  The majority of it used to end up in my trash can until I learned that his dentist does a candy buy back program so the kids get money for turning in their candy.  Such a great idea!  Look for one of these programs in your area.
The characters are adorable and the story makes both your sweet tooth and your heart smile.  It's one you can read over and over for younger kids and use as a decorative piece as well.  You'll want this in your home library.  Available in paperback, kindle and nook (click link and book above).
3.  Theme Parks and Haunted Houses
Instead of overloading on candy, you can always check out a theme park or haunted house.  Legoland and Disneyland celebrate Halloween in style with pumpkins as large as small buildings.  Local museums may have Day of the Dead exhibits that are both fascinating and colorful to look at.  Many shopping centers have haunted houses you can walk through together.  Make sure to hold their hands if they're scared.
COSTUMES
1.  Always have your child try on their costume in advanced. 
If you can have them try it on at the store BEFORE you purchase that's the best option.  Maybe you'll find sequence in the collar of the shirt that drives your daughter crazy.  You can't have an irritated princess!  What if the Spiderman hoodie is too tight and makes your superhero grouchy?  And most importantly – what if the fabric doesn't breath and they get hot and sweaty?  So not a good idea if you're out with a group of kids and your sensory sensitive kiddo is pulling off his costume in a fit.
2.  Practice Make-up and Props in advanced too!
Plan on painting your child's face with zombie make-up and blood?  Might seem like a great idea until they're scratching if off before you even leave the house.  Glitter and gloss?  Does it make her cheeks itch?  Does that glow spray in her hair have too strong of a scent?
3.  Wear clothes under the costume. 
Unless you don't mind if your 7 year old is walking around a neighborhood in their underpants while you lug around their Iron Man costume, then put a pair of comfy shorts and a t-shirt under their costume.  For babies, a soft onsie can help them be more comfortable if their costume has a lot of seams on the inside.
4.  Take Pajamas as a back up.
If you're going trick-or-treating far from home, it's always a good idea to bring a pair of their favorite pajamas along.  That way if your child can't tolerate their costume for a long period of time, they can change into their comfy jammies and trick-or-treat with a pillow case without making your other kids or friends have to go home early.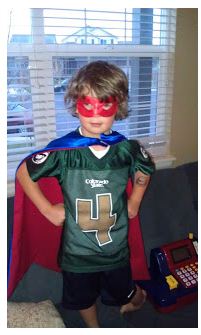 Trick-or-Treating
1.  Have an allotted about of time to spend going door to door.
If you know your child can only take an hour of walking before they're tired, make sure they know in advanced how long they get to collect candy.  Give them warnings when their time is coming to a close.  "Fifteen minutes till home."  And again, "Five minutes till we're done.  Let's start wrapping it up and we can go home and look through the candy."
2.  Know your route.
Map out where you want to go and which neighborhoods you want to hit in the shortest period of time. Is there a spooky house that your child has been eyeing all week?  Maybe start there and work back to your house.  You can make a map that you follow so your child has a visual if needed.  This can help prevent meltdowns.
3.  Take breaks if needed.
You don't have to get it all done at once if your child is getting overwhelmed.  Take a fifteen minute time out to "People Watch."  Sit on a curb or on a park bench and talk to your child about their favorite costumes passing by or count how many ghosts or vampires go by.
4.  Set the candy rules in advanced.
If you're not going to let your child eat any candy when they get home, talk about it in advanced.  If the rule is they get to pick one piece before bed, then establish that before you go trick-or-treating and remind them during the route, "Johnny, make sure to pick your favorite.  Remember only one treat tonight before bed."  This will help ensure no sugar battles later.  Well, maybe.  Good luck with that!
Happy Halloween!
Featured Author: Jackie Linder Olson
Jackie combined her career as a filmmaker and her passion for helping children with special needs by creating Occupational Therapy dvds for parents and teachers, winning an Outstanding Product Award from iParenting. Jackie co-wrote Sensory Parenting: Newborns to Toddlers with Britt Collins, M.S., OTR/L, the first book in their series for Sensory World. She also co-founded non-profit organization, Special Needs United, in order to provide Occupational Therapy and OT equipment for families in need. All of the above have been born out of her love for her son with sensory processing issues and an autism diagnosis.
PediaStaff hires pediatric and school-based professionals nationwide for contract assignments of 2 to 12 months. We also help clinics, hospitals, schools, and home health agencies to find and hire these professionals directly. We work with Speech-Language Pathologists, Occupational and Physical Therapists, School Psychologists, and others in pediatric therapy and education.