Book Review: The Practical (and fun) Guide to Assistive Technology in Public Schools: Building or Improving Your District's AT Team
Reviewed for PediaStaff By: Sean J. Sweeney
Book by: by Christopher R Bugaj and Sally Norton-Darr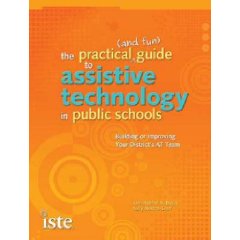 Chris Bugaj and his colleague Sally Norton-Darr have penned an informative (and indeed, fun to read) guide to the role of Assistive Technology (AT) and its practitioners in the school setting. AT, a still-emerging discipline, is likely an area that is blurry or unfortunately non-existent in many school districts, so the authors aim to not only clarify that but also empower readers to create an AT team if none exists. That said, you should not be scared off by the title of this book if the idea of creating something from nothing within your educational setting seems a tad ambitious for your taste. The book will still provide a treasure trove of valuable information about AT and how it shapes our practice as therapists.
If you have ever heard Chris present a workshop or listened to his A.T.TIPSCAST podcast- and if you have not, I recommend doing so- you'll find that his and Sally's voices lend a fun, very readable approach to what could have been a dry textbook. In conveying the nitty-gritty of what AT Trainers do from day to day, the authors use cartoons, anecdotes, analogies about judgmental Aunt Ida (one of many examples), modified nursery rhymes and all-around humor (One section heading is entitled "Don't Procrastin…Ah, We'll Finish That Later."). All of this lends an approachable and relatable quality to the informative text without ever overdoing the "fun."
Coming from the perspective of having been both a Speech-Language Pathologist and Instructional Tech Specialist, roles that have overlap with AT, I really learned a lot from The Practical (and Fun) Guide. I also appreciated greatly their respectful treatment of the boundaries of those overlapping areas and how the AT specialist might avoid any pitfalls that could ensue when working with SLPs, other therapists and ITS (and inferentially, how I might avoid the same). Specifically, this book includes:
Specific details of the AT Specialist's job description, as well as pertinent terms and definitions.
Examples of technology tools, accommodations, and strategies that might be recommended for hypothetical students (very informative for SLPs and OTs who are also asked to make such recommendations).
Popular misconceptions about AT services, and the relationship between AT services and IEP goals.
Items in every AT's toolkit (also might be helpful to have in yours).
Where to look to learn more about Assistive Technology.
How to promote and locate funds for AT
The AT consultation and evaluation process (there's a difference between the two!) and how to work with teachers once these are complete.
The book wisely does not focus excessively on examples of specific high-tech tools that one should recommend for students. I say wisely because these have probably changed since my last breath (and because, of course, it all depends on the student's needs). What was really helpful to me, though, was the authors' broad view of technology, and inclusion of many low-tech tools such as posters and document holders. I have been thinking of including such non-CPU-dependent examples of technology on my own blog, and this was really validating and inspiring.
All in all, I think The Practical (and Fun) Guide brings an important perspective that should be considered by all therapists who participate on IEP Teams, and can especially inform our consultation with their teachers, a piece of our service delivery that in my opinion is often more important than how many times we "see" students.
Our Featured Guest Blog/Author: Sean J. Sweeney of SpeechTechie
Thanks to Sean and SpeechTechie.com for sharing his blog post with us. Please support our contributors and visit SpeechTechie.com
About Sean and SpeechTechie.com:
Hi! My name is Sean J. Sweeney and I am a Speech-Language Pathologist (SLP) and Instructional Technology Specialist (ITS). I currently work as an ITS at a middle school in Newton MA and continue my work as an SLP in private practice at The Ely Center, also in Newton. SpeechTechie is an effort to combine my two passions: fostering language development through contextualized intervention, and interactive educational technologies. My goal is to post several resources a week, and present each resource "through the language lens," meaning with an eye toward how the website or program would be helpful in speech and language interventions. I hope that this blog will be helpful not only to SLPs but also to ESL/ELL teachers, language arts teachers, special education teachers, or anyone who loves words! Feel free to comment/leave feedback or questions on any post or to contact me at sean at speechtechie.com
PediaStaff hires pediatric and school-based professionals nationwide for contract assignments of 2 to 12 months. We also help clinics, hospitals, schools, and home health agencies to find and hire these professionals directly. We work with Speech-Language Pathologists, Occupational and Physical Therapists, School Psychologists, and others in pediatric therapy and education.